San Andreas
2015, PG-13, 114 min. Directed by Brad Peyton. Starring Dwayne Johnson, Carla Gugino, Alexandra Daddario, Ioan Gruffudd, Paul Giamatti, Archie Panjabi, Hugo Johnstone-Burt, Art Parkinson, Kylie Minogue.
As future fodder for Austin's snarky Master Pancake Theater, this newest entry in the perennial "California Gets It" disaster movie subgenre is a hoot. It's also exactly what you expect it to be, which is to say it's front-loaded with spectacular CGI scenes of everything west of the titular tectonic fault line either crumbling into dust, going up in fireballs, or being subsumed by the Pacific Ocean. A less-than-original take on the Irwin Allen/Roland Emmerich end-of-the-world express, San Andreas elicited more than a few bursts of laughter at the preview screening I attended.
Thank screenwriter Carlton Cuse (Lost, The Strain) for that. He and director Peyton follow the disaster-flick template to the letter, tossing in everything from last-second saves of small children, God's-eye POV shots of ginormous chaos, the Hollywood Sign toppling, a divorced couple who are destined to be reunited by film's end, and resourceful daughters in peril. Beat by beat, San Andreas serves up both what the audience knows best and, apparently, what they want most. Even last year's Godzilla reboot had more suspense than this far-too-familiar clunker.
There is a plot, sort of. The ultra-muscled Johnson plays an Afghanistan War vet turned heroic chopper pilot who dotes on his college-age daughter (Daddario) but is estranged from his wife (Gugino). She, of course, is about to marry the sort of unctuous billionaire douche-lord (Gruffudd) that just has to get smushed by a falling something at some point in the proceedings. Paul Giamatti has a fine paycheck role as a Caltech seismologist who predicts the megaquake. But that's about it as far as actual characters go. Wait, no, there's one more: a Bay Area Rapid Transit train that makes a spectacular, momentary appearance at street level – best cameo of the year in a California apocalypse flick, as far as I'm concerned.
San Andreas, by its very nature, begs, borrows, and outright steals from other, occasionally better, disaster epics. Deep-core action film fans will immediately recognize an entire third act drowning sequence that's lifted virtually shot for shot from James Cameron's perpetually underrated The Abyss. (Fear not: Dwayne Johnson is no Ed Harris; he's not even Charlton Heston.)
With a final line of dialogue that will reverberate across the eons as one of the worst in Hollywood history, San Andreas marks itself as a film that's so awful it's actually pretty great. This is how the world ends, not with a bang, but with a guffaw.
A note to readers: Bold and uncensored, The Austin Chronicle has been Austin's independent news source for over 40 years, expressing the community's political and environmental concerns and supporting its active cultural scene. Now more than ever, we need your support to continue supplying Austin with independent, free press. If real news is important to you, please consider making a donation of $5, $10 or whatever you can afford, to help keep our journalism on stands.
READ MORE
More Brad Peyton Films
The Rock! The ape! The lizard! The ... flying wolf?
Richard Whittaker, April 13, 2018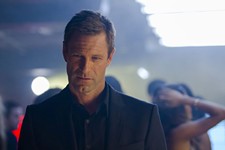 Demon possession thriller
Marc Savlov, Dec. 9, 2016
More by Marc Savlov
The Prince is dead, long live the Prince
Aug. 7, 2022
Texas-made luchadores-meets-wire fu playful adventure
April 29, 2022
KEYWORDS FOR THIS FILM
San Andreas, Brad Peyton, Dwayne Johnson, Carla Gugino, Alexandra Daddario, Ioan Gruffudd, Paul Giamatti, Archie Panjabi, Hugo Johnstone-Burt, Art Parkinson, Kylie Minogue
MORE IN THE ARCHIVES