Little Boy
2015, PG-13, 106 min. Directed by Alejandro Monteverde. Starring Jakob Salvati, Cary-Hiroyuki Tagawa, Emily Watson, Tom Wilkinson, David Henrie, Michael Rapaport, Kevin James, Ted Levine, Ben Chaplin, Ali Landry.
Awash in a gauzy glaze of engineered nostalgia, the precocious Little Boy is a Norman Rockwell knockoff about the mountain-moving power of faith. Sometimes, a mustard seed is just a mustard seed. Set in a small coastal town in Northern California during World War II, its titular youngster is the oddly named Pepper Busbee (Salvati), a diminutive 8-year-old with a big heart. Teased and bullied by his classmates due to his size – the politically incorrect "midget" is a frequent epithet lobbed his way – the more nicely nicknamed "Little Boy" finds solace in both a close relationship with the loving father (Rapaport) he idolizes and his devotion to a cheesy comic-book and movie-serial hero named Ben Eagle, a daredevil magician who inspires his No. 1 fan with the rhetorical question, "Do you think you can do it?" when things get rough. When Pepper's older brother, London (a miscast Henrie, looking more like Rocky Balboa Jr. than a member of his Anglicized film family), is rejected for military service due to his flat-footedness (there's a metaphor in there somewhere), the Busbee paterfamilias is conscripted instead. Led by a well-meaning priest to believe he can end the war and ensure the safe return of his beloved dad simply through the exercise of sheer will, the height-challenged lad checks off a list of good deeds to achieve his objective, one being befriending an elderly Japanese-American man (Tagawa) vilified by the townspeople for his bloodline. Of course, anyone with a working knowledge of 20th-century history knows that a bomb code-named "Little Boy" indeed ended the conflict in the Pacific Theatre, a plot point that appears to be the sole raison d'être for this contrived (ahem) little movie.
As the ginger-headed Pepper, newcomer Salvati registers boyish consternation admirably, his angelic face set in a perpetual state of perplexity. He's Macaulay Culkin with a lot on his mind. When required to pull out the emotional stops, however, Salvati's lack of actorly training shows, and (to be charitable) it's painful to witness. A host of familiarly faced character actors – Wilkinson, Levine, Chaplin – seemingly wander through the film with little purpose, seldom served well by director Monteverde's absent point of view. This is the rare instance these days in which a Mexican-born filmmaker helming an American movie completely misses the mark. For all its unsubtle sentimentality (including a you-can-see-it-from-a-mile-away plot twist), it remains unclear whether Little Boy intends to celebrate the conviction of belief or to mock it. It's an unfortunate confusion that permanently stunts its growth.
A note to readers: Bold and uncensored, The Austin Chronicle has been Austin's independent news source for over 40 years, expressing the community's political and environmental concerns and supporting its active cultural scene. Now more than ever, we need your support to continue supplying Austin with independent, free press. If real news is important to you, please consider making a donation of $5, $10 or whatever you can afford, to help keep our journalism on stands.
READ MORE
More by Steve Davis
Miyazaki's gorgeous but oddly obtuse return to animation
Dec. 8, 2023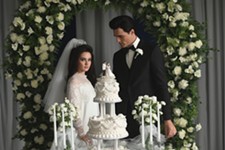 Measured journey behind closed doors of rock & roll's most famous marriage
Nov. 3, 2023
KEYWORDS FOR THIS FILM
Little Boy, Alejandro Monteverde, Jakob Salvati, Cary-Hiroyuki Tagawa, Emily Watson, Tom Wilkinson, David Henrie, Michael Rapaport, Kevin James, Ted Levine, Ben Chaplin, Ali Landry
MORE IN THE ARCHIVES