Deli Man
2015, PG-13, 91 min. Directed by Erik Anjou.
The pastrami looks and tastes great in this loving documentary about Jewish delicatessens, but the meal would go down even better if some of the excess fat were trimmed.
The anchor for this love song to the Jewish deli is Ziggy Gruber, a third-generation deli man who currently operates Kenny & Ziggy's in Houston, Texas. A classically trained chef, Gruber is a graduate of Le Cordon Bleu who trained at a three-star Michelin restaurant in London but threw that cuisine overboard after having an epiphany. Growing up in New York City, Gruber gladly worked in delis run by his grandparents, father, and uncles during a time when Jewish delis were ubiquitous in the metropolitan area. The food and the atmosphere were part of his fiber. In the late Eighties, while accompanying his father to an annual dinner of the Delicatessen Dealers' Association of Greater New York, Gruber looked around the room and realized that the business was dying. All the dinner guests were in their 60s and 70s; only a couple dozen members were left in the organization and there was no new blood to perpetuate the tradition. Gruber found his calling, abandoned his "fancy shmancy" cooking, and moved back to the States to become a deli man.
Following starts in New York and Los Angeles, Gruber established his successful temple to Jewish food in Houston. The film follows Gruber as he relates his life story, kibitzes with his patrons and staff (most of the kitchen staff are Mexican-Americans with no previous knowledge of matzo balls and gefilte fish), and travels to New York, Toronto, Los Angeles, and San Francisco to visit some of the country's great delis (Carnegie, Katz's, 2nd Avenue Deli, Nat 'n Al, and Canter's, among them). Deli connoisseurs such as Jerry Stiller, Larry King, Alan Dershowitz, and Fyvush Finkel sing the praises of pastrami and corned beef, but while their testimonies add color, little new information is added. One interesting fact about the preservation of Jewish delis emerges, however. The cuisine, which was developed by the Jewish immigrants from the Eastern European diaspora, has no homeland to call its own. The Jews are mostly gone from those European centers and the deli emerged from New York's melting pot.
Deli Man is director Erik Anjou's third documentary about Jewish traditions, following A Cantor's Tale and The Klezmatics: On Holy Ground. His affinity for the subject matter is evident, but it's hard to make food tantalizing on film, to convey the taste of pastrami or the texture of a matzo ball. More work on that aspect, rather than placing the primary focus on Gruber's engaging personality, would help. The old ad campaign, "You don't have to be Jewish to love Levy's real Jewish rye," is an example of Jewish food's universal appeal. Deli Man needs more meat on its rye.
A note to readers: Bold and uncensored, The Austin Chronicle has been Austin's independent news source for almost 40 years, expressing the community's political and environmental concerns and supporting its active cultural scene. Now more than ever, we need your support to continue supplying Austin with independent, free press. If real news is important to you, please consider making a donation of $5, $10 or whatever you can afford, to help keep our journalism on stands.
READ MORE
More Films
Unerotic and unthrilling home invasion flick is seriously unsubtle
Richard Whittaker, Jan. 14, 2022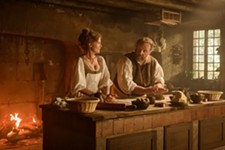 French historical cooking drama mixes class and cuisine
Trace Sauveur, Jan. 14, 2022
More by Marjorie Baumgarten
Former staff reflect on the zigs and zags of life post-Chronicle
Sept. 3, 2021
Story of America's itinerant population wanders too much
Feb. 19, 2021
KEYWORDS FOR THIS FILM
MORE IN THE ARCHIVES