Faults
2015, NR, 89 min. Directed by Riley Stearns. Starring Mary Elizabeth Winstead, Leland Orser, Beth Grant, Chris Ellis, Lance Reddick, Jon Gries, Nicholas Tucci, Leonard Earl Howze.
Ansel Roth is a mess. Broke and homeless, the once-famous expert on mind control has hit rock bottom after precipitating the suicide of a young woman he once rescued from a cult and then exploited for his own gain. At the end of his rope, he can barely muster enough self-respect to get through the hotel seminar attended by a near-empty audience interested only in witnessing the spectacle of this miserable man. So when his former manager demands payment of a large debt, the hapless Roth tries to kill himself by inhaling the exhaust straight from the tailpipe of a car idling in an open-air hotel parking lot. Needless to say, the coughing fit that ensues is not the last gasp of a dying man but the pathetic wheezing of an individual so lost in his own despair that it's absurdly, tragically funny.
The more-often-than-not engaging Faults, which premiered at SXSW Film 2014, recounts Roth's attempt to deprogram another young woman brainwashed by a cult, a job he reluctantly takes in order to pay back the money he owes. His subject, the 28-year-old Claire, has been living with a group called the Faults, whose members advance to and from specified levels of growth until they reach the stage at which they no longer require human form. At first, Claire's earnest recitations of the organization's beliefs sound like the ravings of a lunatic. But there's a subtle manipulative quality about the manner in which she interacts with Roth in the pine-paneled motel room in which they're sequestered, and soon you find yourself wondering exactly who's being deprogrammed. Maybe the girl's not so crazy after all.
As the down-on-his-luck Roth, Orser gives the darkly comic performance of a man barely able to keep his head above water. Laughing at Roth's sad predicament seems so wrong but yet so right. And yet, Orser never loses the humanity of this man paying the price of an unforgivable sin. It's a delicate balance, one he manages adeptly. In the hands of a lesser performer, the film's twist at the end (a neatly achieved plot turn) would play less believably, but it makes all the sense in the world with him in the leading role. Blame it on Orser. Faults lies entirely with this underrated character actor.
A note to readers: Bold and uncensored, The Austin Chronicle has been Austin's independent news source for over 40 years, expressing the community's political and environmental concerns and supporting its active cultural scene. Now more than ever, we need your support to continue supplying Austin with independent, free press. If real news is important to you, please consider making a donation of $5, $10 or whatever you can afford, to help keep our journalism on stands.
READ MORE
More Riley Stearns
Riley Stearns' new sci-fi drama makes its world premiere at Sundance
Richard Whittaker, Jan. 21, 2022
More Riley Stearns Films
Karen Gillan is in double trouble in Riley Stearns' latest
Josh Kupecki, April 15, 2022
Jesse Eisenberg excels as the mouse that roars in this karate black comedy
Matthew Monagle, July 12, 2019
More by Steve Davis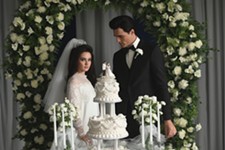 Measured journey behind closed doors of rock & roll's most famous marriage
Nov. 3, 2023
Ryan and Duchovny ponder the road not taken in magical rom-com
Nov. 3, 2023
KEYWORDS FOR THIS FILM
Faults, Riley Stearns, Mary Elizabeth Winstead, Leland Orser, Beth Grant, Chris Ellis, Lance Reddick, Jon Gries, Nicholas Tucci, Leonard Earl Howze
MORE IN THE ARCHIVES