Song of the Sea
2014, PG, 93 min. Directed by Tomm Moore. Voices by Brendan Gleeson, Fionnula Flanagan, David Rawle, Lisa Hannigan, Jon Kenny, Lucy O'Connell.
The ethereal Irish animated fantasy Song of the Sea looks like a beautifully illustrated children's storybook, one in which you slowly turn the pages to fully savor the imagery enhancing the tale being told. In a genre dominated by computer-generated compositions and design, its old-school simplicity is sweetly anachronistic, while its hand-drawn elegance is often something to behold. A surprise nominee in this year's Oscar race in the animated feature film category (and where is The LEGO Movie in that list of contenders, you may ask?), this enchanting little movie is a companion piece to the 2009 Oscar-nominated The Secret of Kells, which Irish illustrator and filmmaker Moore also directed. Like the earlier film, Song of the Sea is inspired by ancient legends, this time in the Celtic folklore of the selkie, the mysterious creature who lives as a seal in the sea but sheds her shiny skin (which becomes a form-fitting cloak) to live as a woman on land. Sadly, the briny deep constantly beckons these hybrid beings, with heartbreak and tragedy ultimately resulting for the unfortunate humans whom they encounter on terra firma.
The narrative is complicated and often hard to follow, particularly if you're under the age of 10. Two children, the restless Ben and his mute younger sister, Saoirse, live atop a hill in a remote lighthouse overlooking the ocean with their widowed father, a man still mourning the disappearance of his selkie wife six years earlier. When circumstances dictate they leave home to live with their bossy but well-meaning grandmother in the city, an adventure ensues, one that involves a magical seashell, hapless fairies turned to stone, and their missing mother's sealskin coat. The two brave young souls engage in this quest so that Saoirse – a selkie herself – may find her voice and undo a centuries-old spell. Again, it's all-so-lovely to watch – the spiral patterns of white circular forms embodying the song of the sea are mesmerizing, the color schemes used to depict the Irish seas and countryside are rich – but you need a text to fully appreciate the whimsically convoluted plot. (Or have a working knowledge of Irish mythology.) Still, there's something very comforting for everyone regardless of age here, especially in the finale's (albeit brief) reunion between mother and child, husband and wife. Like a story read or a lullaby sung to a youngster at bedtime, Song of the Sea feels like a warm and tender hug in the end, an experience that wraps itself around you and makes you feel at home. When all is said and done, what more could you ask for?
A note to readers: Bold and uncensored, The Austin Chronicle has been Austin's independent news source for over 40 years, expressing the community's political and environmental concerns and supporting its active cultural scene. Now more than ever, we need your support to continue supplying Austin with independent, free press. If real news is important to you, please consider making a donation of $5, $10 or whatever you can afford, to help keep our journalism on stands.
READ MORE
More Tomm Moore Films
Gorgeous Irish animation speaks to the power of finding your pack
Richard Whittaker, Nov. 13, 2020
This animated Irish stunner is visually complex and colorful and was a contender this year for the best animated film Oscar.
Marjorie Baumgarten, May 7, 2010
More by Steve Davis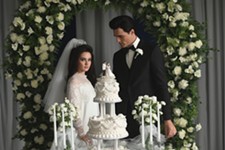 Measured journey behind closed doors of rock & roll's most famous marriage
Nov. 3, 2023
Ryan and Duchovny ponder the road not taken in magical rom-com
Nov. 3, 2023
KEYWORDS FOR THIS FILM
MORE IN THE ARCHIVES