Listen Up Philip
2014, NR, 109 min. Directed by Alex Ross Perry. Starring Jason Schwartzman, Elisabeth Moss, Jonathan Pryce, Krysten Ritter, Joséphine de La Baume, Jess Weixler, Dree Hemingway, Keith Poulson, Kate Lyn Sheil.
The up-and-coming young novelist in Listen Up Philip is a black hole of self-absorption – anyone who gets too close gets sucked into a vortex of narcissism from which few escape unscathed. Within the first 10 minutes of the film, Philip Lewis Friedman (Schwartzman) viciously belittles an ex-girlfriend and harshly judges an old college classmate, exorcising those relationships as if his burgeoning literary success entitles him to heap misery upon others. More disturbingly, the emotional abuse he inflicts upon his current significant other (the lovely Moss – what an open-hearted face!) borders on the sociopathic. Philip is the indisputable center of his own universe, wearing his East Coast literati misanthropy in the same way the tweedy jacket and slightly unkempt facial hair mark his appearance as a serious writer. It's part of the dress code, proof that you can tell a book by its cover. The only person who Philip does not strive to alienate is his famous mentor and role model, Ike Zimmerman (Pryce), an aging Jewish-American author feeling the impotence of writer's block, a character clearly based on another Philip, the esteemed (and notably anti-social) literary giant, Philip Roth. "You are selfish and unsentimental," Ike approvingly pronounces upon greeting the younger version of himself, to which Philip smartly (and genuinely) responds, "You say that like it's a bad thing."
The antithesis of a feel-good movie, Listen Up Philip is a challenging experience, largely because it refuses to compromise its protagonist's dogged preoccupation with himself. All of Philip's defining characteristics – his aggravating arrogance, his fine-tuned cruelty, his scorched-earth view of human interaction – safely keep you at a distance, leaving you to objectively observe but never subjectively empathize with him. Even if you accept Philip on his own terms – and make no mistake, there are no other terms – the film's single-mindedness paints him into a corner without a smidgen of anything remotely redemptive. (If the film had sampled his writings, you might at least appreciate his creative talent.) More so, Listen Up Philip never displays the gravitational pull that brings people within its young malcontent's orbit in the first place, except when Schwartzman – an acutely self-aware actor who specializes in playing characters who live within themselves – gives us the suggestion of a smile that betrays the isolated-artist persona Philip so fervently embraces.
Director-screenwriter Perry (The Color Wheel) imbues the feature with a jazzy looseness that feels a little indulgent at times, but it's a nevertheless beguiling touch. He may be a filmmaker to watch. But there's something amiss here, something that Eric Bogosian's frequent voiceover intrusions can't adequately explain, even when spelling out Philip's and others' inner thoughts and feelings. Bogosian's hard-boiled delivery of this narration sounds more at home in a pulpy piece of detective fiction, one which provides clues that illuminate, if not resolve, the mystery at hand, unlike the opaque Listen Up Philip.
A note to readers: Bold and uncensored, The Austin Chronicle has been Austin's independent news source for over 40 years, expressing the community's political and environmental concerns and supporting its active cultural scene. Now more than ever, we need your support to continue supplying Austin with independent, free press. If real news is important to you, please consider making a donation of $5, $10 or whatever you can afford, to help keep our journalism on stands.
READ MORE
More Alex Ross Perry Films
Elisabeth Moss is a the center of a rock and roll tornado in this heartbreaking ballad of self-destruction
Richard Whittaker, April 19, 2019
Elisabeth Moss stars in Alex Ross Perry's elliptical psychodrama
Josh Kupecki, Sept. 11, 2015
More by Steve Davis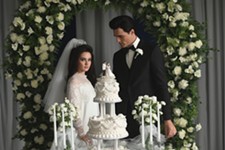 Measured journey behind closed doors of rock & roll's most famous marriage
Nov. 3, 2023
Ryan and Duchovny ponder the road not taken in magical rom-com
Nov. 3, 2023
KEYWORDS FOR THIS FILM
Listen Up Philip, Alex Ross Perry, Jason Schwartzman, Elisabeth Moss, Jonathan Pryce, Krysten Ritter, Joséphine de La Baume, Jess Weixler, Dree Hemingway, Keith Poulson, Kate Lyn Sheil
MORE IN THE ARCHIVES