The Theory of Everything
2014, PG-13, 123 min. Directed by James Marsh. Starring Eddie Redmayne, Felicity Jones, Charlie Cox, David Thewlis, Simon McBurney, Maxine Peake, Emily Watson.
The Theory of Everything delicately observes the boundless universe of love's possibilities – what we're willing to give, what we're willing to take, what we're willing to endure. Inspired by Jane Wilde Hawking's memoir about her life with former husband Stephen Hawking, the brilliant theoretical physicist (A Brief History of Time) diagnosed with motor neuron disease at age 21, the film's heart beats with a romantic optimism, even when each of them finds new soul mates and their union ends. Admittedly, this adaptation smooths over some of the rough edges of the Hawkings' relationship (including his prickly selfishness and her resentments about it), but hey – we can dream a little, can't we?
The couple's courtship begins when they're graduate students at Cambridge in 1962, a period lensed by cinematographer Benoît Delhomme like a storybook romance. Stephen (Redmayne) is a shy young man with a toothy grin as wide as his shoulders; Jane (Jones) is a self-possessed young woman with china-doll features who finds herself drawn to this unlikeliest of suitors. Around this time, subtle omens of his degenerative illness begin to manifest: a trip on the staircase, the fumbled grasp of a pencil, a wobble in the gait. Given a prognosis of two years to live, Stephen withdraws from the world, including Jane. But she refuses to allow him to go gently, challenging him to a game of croquet. As he irritably stumbles around the wickets and struggles to finish the game, she watches with moist eyes betraying her brave smile. You know you're witnessing the beginning of a remarkable love story, for here is one human being giving another a reason to live.
As lovely as the film is, it's strangely inert. Granted, the debilitating nature of Hawking's disease by its very nature inhibits the film's action, but the possibility of something dynamic is there, not in the man's deteriorating body but in his beautiful mind. When Hawking experiences his eureka moment in formulating his theory about the birth of time based on black holes, the movie comes alive with the wonder of discovery. When it shifts back to the growing strain in the relationship between Stephen and Jane, you find yourself yearning for a little more science and a little less marital drama. What other mind-blowing ideas lurk in the brain of this genius, the heir apparent to Einstein?
What takes The Theory of Everything into the cosmos is Redmayne's extraordinary performance. The disciplined precision with which he progressively embodies Hawking's failing body is nothing short of astonishing. Each scene demands a different level of concentration with respect to the muscles in his torso, his arms, his legs, his feet, his face, his eyes, his mouth, his vocal chords, and more. And yet, you never see Redmayne sweat. All you see is Stephen Hawking. Many of today's actors can achieve remarkable physical transformations to resemble living or historical persons, but the trick is to convey the human being within the doppelgänger. In playing a man with Lou Gehrig's disease, Redmayne's options for conveying this emotional core might seem limited, but like Hawking, he doesn't allow the laws of nature to constrain him. With a smile, a frown, or a tear, he says everything without uttering a word. It's a wondrous thing to behold.
A note to readers: Bold and uncensored, The Austin Chronicle has been Austin's independent news source for over 40 years, expressing the community's political and environmental concerns and supporting its active cultural scene. Now more than ever, we need your support to continue supplying Austin with independent, free press. If real news is important to you, please consider making a donation of $5, $10 or whatever you can afford, to help keep our journalism on stands.
READ MORE
More James Marsh Films
The story of a science experiment in which a chimpanzee was raised as a human child is recounted in this heartbreaking documentary.
Marjorie Baumgarten, Dec. 9, 2011
This second installment in a three-part dramatization of dirty dealings in Yorkshire is concerned with the notorious corruption mill that powers the region's law enforcement.
Kimberley Jones, March 26, 2010
More by Steve Davis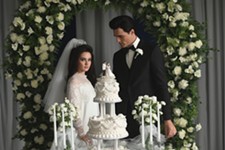 Measured journey behind closed doors of rock & roll's most famous marriage
Nov. 3, 2023
Ryan and Duchovny ponder the road not taken in magical rom-com
Nov. 3, 2023
KEYWORDS FOR THIS FILM
The Theory of Everything, James Marsh, Eddie Redmayne, Felicity Jones, Charlie Cox, David Thewlis, Simon McBurney, Maxine Peake, Emily Watson
MORE IN THE ARCHIVES