Deliver Us From Evil
2014, R, 118 min. Directed by Scott Derrickson. Starring Eric Bana, Édgar Ramírez, Olivia Munn, Joel McHale, Chris Coy, Sean Harris, Olivia Horton, Dorian Missick, Mike Houston.
A baby tossed into a lion's den by his mother. A mummified cat nailed to a crucifix. A swarm of insects crawling out of a mottled corpse's eyes. Disturbing imagery, no doubt, but to what end? The horror in the lazy, confounding
Deliver Us From Evil
is an abstraction at best. It's like flipping through a magazine: You glimpse the horrific for a few seconds, and then it's on to the next page. This stuff of nightmares may elicit pangs from the collective unconscious, but it has no independent staying power absent a cogent storyline. When Regan's sweetly blank face transmutes into a lacerated mask spewing obscenities in
The Exorcist
, the shock of her appearance is something more than merely aesthetic. Sure, William Peter Blatty's tale of demonic possession is Catholicized mumbo jumbo, but it's a helluva story that expertly manipulates primal fears about the possibility of inexplicable evil. The mutilated, slobbering, howling possessed in Deliver Us From Evil crawl on all fours like animals, and furiously dig into surfaces until their fingers bleed, but they're nothing more than a sideshow, freaks on display for your perverse enjoyment. It's unsettling, but never terrifying. Their appearance is merely a cue for the inevitable ritual to come: What an excellent day for an exorcism.
"Inspired from actual events" experienced by real-life Bronx cop, Ralph Sarchie (translation: What you see onscreen didn't happen), the film begins with three American soldiers stumbling upon a cryptic Latin inscription written on the wall of an Iraqi cave. Turns out, this chance encounter opens a portal to hell that remains ajar when the men return home to New York City to commit random acts of Mephistophelean madness. (The music of the Doors is prominently featured to portend and underscore the portal theme. Seriously.) Enter Sarchie (played by Bana, as if impersonating Father Karras) and a chain-smoking, hard-drinking Latin street priest (do they make those anymore?) with Pre-Raphaelite curls to cast out the demons in this piece of grisly hokum that steals heavily from the seminal 1973 exorcism film that started it all. When will the movies' obsession with this rarely performed religious practice ever wane? God only knows.
A note to readers: Bold and uncensored, The Austin Chronicle has been Austin's independent news source for over 40 years, expressing the community's political and environmental concerns and supporting its active cultural scene. Now more than ever, we need your support to continue supplying Austin with independent, free press. If real news is important to you, please consider making a donation of $5, $10 or whatever you can afford, to help keep our journalism on stands.
READ MORE
More Scott Derrickson Films
Ethan Hawke is a villain for the ages in this brilliant horror
Richard Whittaker, June 24, 2022
The Doctor is out, far out
Marc Savlov, Nov. 4, 2016
More by Steve Davis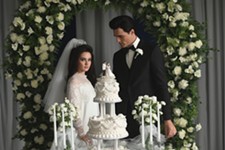 Measured journey behind closed doors of rock & roll's most famous marriage
Nov. 3, 2023
Ryan and Duchovny ponder the road not taken in magical rom-com
Nov. 3, 2023
KEYWORDS FOR THIS FILM
Deliver Us From Evil, Scott Derrickson, Eric Bana, Édgar Ramírez, Olivia Munn, Joel McHale, Chris Coy, Sean Harris, Olivia Horton, Dorian Missick, Mike Houston
MORE IN THE ARCHIVES