The Other Woman
2014, PG-13, 109 min. Directed by Nick Cassavetes. Starring Cameron Diaz, Leslie Mann, Kate Upton, Nikolaj Coster-Waldau, Nicki Minaj, Taylor Kinney, Don Johnson.
A serial philanderer gets his comeuppance through the handiwork of three of his victims in this romantic comedy that plays like a younger, hipper version of The First Wives Club. The screenplay by Melissa K. Stack demonstrates that the sisterhood of the betrayed can be more fun and effective than nursing one's wounds in solitude. Still, the film's demonstration of female empowerment (cue "Girls Just Wanna Have Fun") also serves to show women as conniving, vengeful chumps who remain obsessed with the man in their lives (cue the Mission: Impossible theme music). The pop-music soundtrack accompanying various scenes grows ever more insistent as the movie progresses.
Carly Whitten (Diaz) is a no-nonsense, Manhattan career woman who rudely discovers that Mark King (Coster-Waldau), her boyfriend of a couple months, is indeed a married man when she pays him a surprise booty call at his home in Connecticut and is met at the front door by his wife Kate (Mann). A ditz who describes herself as being in need of attending "brain camp" when her husband hands her legal paperwork to sign unread, Kate, in turn, pays Carly a visit at work to confront the other woman. Histrionics and some physical comedy ensue, and are further deployed on a subsequent visit to Carly's apartment during which the two women become inebriated and bond. They follow Mark out to the Hamptons, where they see that the cur is cheating on both of them with a third woman, Amber (Upton). Running along the beach in slow motion during her initial introduction, this model-turned-actress calls to mind other buxom beach-babe fantasies like Bo Derek in
10
and Pamela Anderson in
Bay Watch
.
The three women join together to plot against Mark and, initially, derive pleasure from surreptitious stunts like slipping laxatives into his Scotch, lacing his morning smoothies with estrogen, and substituting hair-remover for his shampoo. Carly, an attorney, begins to follow Mark's financial accounts and discovers that he's embezzling money into offshore accounts. Cue another trip to the beach – this time in the Bahamas – and lots more floral-print attire, and the women hatch a plan to wreak the kind of vengeance that hits Mark's wallet rather than his intestinal tract and hormonally sore nipples. Incidental characters – i.e., the legal secretary played by Nicki Minaj and Carly's dad, who's played by Don Johnson – are underwritten, throwaway roles. Granted, femme-centered film comedies are a thing to cherish, but The Other Woman only gets it half right.
A note to readers: Bold and uncensored, The Austin Chronicle has been Austin's independent news source for over 40 years, expressing the community's political and environmental concerns and supporting its active cultural scene. Now more than ever, we need your support to continue supplying Austin with independent, free press. If real news is important to you, please consider making a donation of $5, $10 or whatever you can afford, to help keep our journalism on stands.
READ MORE
More Nick Cassavetes Films
Nick Cassavetes' reign as the go-to waterworks man remains uncontested.
Kimberley Jones, June 26, 2009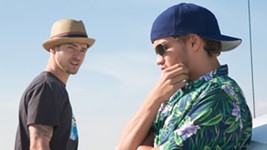 It's a soggy true-crime drama – too serious to be trashy, too trashy to be serious.
Marrit Ingman, Jan. 12, 2007
More by Marjorie Baumgarten
Body doubles take on a new, sick meaning in this next gen Cronenberg horror
Jan. 27, 2023
The bulb glows dim in Sam Mendes' tribute to picture palaces
Dec. 9, 2022
KEYWORDS FOR THIS FILM
The Other Woman, Nick Cassavetes, Cameron Diaz, Leslie Mann, Kate Upton, Nikolaj Coster-Waldau, Nicki Minaj, Taylor Kinney, Don Johnson
MORE IN THE ARCHIVES