Cesar Chavez
2014, PG-13, 101 min. Directed by Diego Luna. Starring Michael Peña, America Ferrara, Rosario Dawson, John Malkovich, Gabriel Mann, Michael Cudlitz, Jacob Vargas.
There's no question we're overdue for a good biopic of Cesar Chavez, the inspirational labor leader, civil rights activist, and co-founder of the United Farm Workers union. To keep his memory alive, it's not enough for every U.S. city of reasonable size to name a street after him. Still, there is the inherent problem of figuring out how to fashion an engaging drama about a figure whose primary tactics involved nonviolent demonstration, economic boycott, and personal fasting (although 1982's multi-Oscar-winner Gandhi proves that making such a film is not an impossible task). Cesar Chavez, though respectful and illuminating, never rises to the inspirational level of its titular subject.
Cast in the lead role for once, Michael Peña performs solidly as Chavez. An even temper keeps the character's anger in check. Yet, the screenplay (by Keir Pearson and Timothy J. Sexton) defaults toward hero worship. Chavez's worst characteristic in their script is that he sometimes overlooks his family's needs in favor of his commitment to la causa. As his wife Helen, America Ferrara is nothing but supportive. Rosario Dawson plays Dolores Huerta, Chavez's co-founder of the the UFW, but her role is underwritten, which makes Huerta seem like the real unsung hero of the movement. As one of the obdurate farm owners, John Malkovich venomously curls his lip and fails to see the parallel between his family's immigrant experience in America and that of the Mexican-American farmworkers.
Actor Diego Luna (Y Tu Mamá También, Milk) takes the director's reins for Cesar Chavez. And although this film seems for all concerned to be a passion project, there is little of that passion emanating from the screen. A great amount of political activity occurs over the course of the few years depicted in this movie and, consequently, much of the hard work of labor organizing, uniting fearful migratory workers, and orchestrating a national grape boycott falls by the wayside. In the end, viewers are more likely to draw inspiration from the vast number of national street signs bearing the Chavez name than from this deferential biopic.
A note to readers: Bold and uncensored, The Austin Chronicle has been Austin's independent news source for over 40 years, expressing the community's political and environmental concerns and supporting its active cultural scene. Now more than ever, we need your support to continue supplying Austin with independent, free press. If real news is important to you, please consider making a donation of $5, $10 or whatever you can afford, to help keep our journalism on stands.
READ MORE
More Michael Peña Films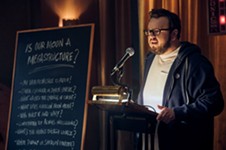 Disaster flick + Dyson sphere = Roland Emmerich's latest
Matthew Monagle, Feb. 11, 2022
Your favorite cat and mouse duo are back and in NYC
Richard Whittaker, March 5, 2021
More by Marjorie Baumgarten
Raunchy road trip goes all the way to China for filthy fun
July 7, 2023
The struggle by three men to save the endangered black kite
March 31, 2023
KEYWORDS FOR THIS FILM
Cesar Chavez, Diego Luna, Michael Peña, America Ferrara, Rosario Dawson, John Malkovich, Gabriel Mann, Michael Cudlitz, Jacob Vargas
MORE IN THE ARCHIVES