3 Days to Kill
2014, PG-13, 113 min. Directed by McG. Starring Kevin Costner, Hailee Steinfeld, Amber Heard, Connie Nielsen, Tómas Lemarquis, Richard Sammel, Marc Andréoni, Jonas Bloquet.
Five seconds: That's the maximum length of any uninterrupted shot in McG's action thriller 3 Days to Kill. Call it filmmaking for the Adderall Generation. In fairness, the snap-crackle-pop pace somewhat distracts from the screenplay by Adi Hasak and Luc Besson, a contrived mix of international espionage and paternal redemption set in a glossy Paris found only in coffeetable books. Its affected blend of absurdist humor and PG-13 violence strives vainly for hip credibility, but it gets a D+ in Tarantino 101. In the film's running gag, dying hit man Ethan Renner (a handsomely grizzled Costner) keeps getting interrupted by his estranged daughter's ringtone while on the job, whether he's torturing an informant with duct tape or about to make his next kill. The bit is amusing the first time, but quickly tires when repeated. It's like your Uncle Bob telling the same joke at every family gathering, as if no one had ever heard it before. With each recitation, getting to the punch line is a sentence in purgatory.
The central conceit in 3 Days to Kill – the family man moonlighting as a gun-for-hire – is hardly a fresh one. It worked in films released 10 or 20 years ago (see True Lies or Mr. and Mrs. Smith), but here it feels played out, clichéd. There's little originality here, with the exception of Costner's weary countenance (interrupted by consumptive coughs and spotty nosebleeds) and cowboy-chic attire befitting a gunslinger roaming the City of Lights in search of Euro-villains. It's a different take on the contract killer, but McG's fastidious direction drains the concept of any spontaneity. The pillows, the drapes, the clothes, the hair, the makeup are all color-coordinated to a fault, with red as the operative hue. That said, 3 Days to Killis a relatively bloodless film, both in terms of its carnage and emotions. The crimson spotting of starched white shirts is artfully arranged; a teenager's resentment directed towards an absent father evaporates when the whims of the plot dictate. And as for Heard's dragon-lady performance as the red-lipped CIA operative running the show, the less the said the better.
3 Days to Kill is not a complete bust. Aside from Costner's laconic take, it includes a dazzling set-piece in which Ethan kidnaps an accountant on a Paris boulevard in broad daylight. (Funny how Costner plays characters on the hunt for accountants who work for the bad guys.) It's a beautifully shot and edited sequence, executed with the precision of an expensive timepiece. It would do Hitchcock proud. By far, those few minutes are the best time you'll have during the otherwise interminable three-day period in the title.
A note to readers: Bold and uncensored, The Austin Chronicle has been Austin's independent news source for over 40 years, expressing the community's political and environmental concerns and supporting its active cultural scene. Now more than ever, we need your support to continue supplying Austin with independent, free press. If real news is important to you, please consider making a donation of $5, $10 or whatever you can afford, to help keep our journalism on stands.
READ MORE
More McG Films
Reese Witherspoon, Tom Hardy, and Chris Pine star in this romcom about two CIA agents who fall for the same gal.
Marc Savlov, Feb. 17, 2012
Despite a couple of good action sequences, Terminator Salvation is loud, talky, and entirely lacking any sort of soul or sense of good old summer-matinee fun.
Marc Savlov, May 22, 2009
More by Steve Davis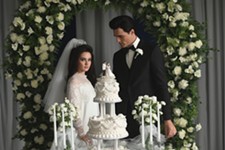 Measured journey behind closed doors of rock & roll's most famous marriage
Nov. 3, 2023
Ryan and Duchovny ponder the road not taken in magical rom-com
Nov. 3, 2023
KEYWORDS FOR THIS FILM
3 Days to Kill, McG, Kevin Costner, Hailee Steinfeld, Amber Heard, Connie Nielsen, Tómas Lemarquis, Richard Sammel, Marc Andréoni, Jonas Bloquet
MORE IN THE ARCHIVES