I, Frankenstein
2014, PG-13, 93 min. Directed by Stuart Beattie. Starring Aaron Eckhart, Yvonne Strahovski, Miranda Otto, Bill Nighy, Aden Young, Jai Courtney, Socratis Otto, Kevin Grevioux.
Why so serious? Oh, right: You belong dead. But instead of rotting away in the peaceful and cool earth, or perishing in a windmilling conflagration, or yukking it up with Abbott and Costello, you're immortal, lonely, and literally stone cold sober. At least James Whale and Mel Brooks had the good sense to let you in on the double-entendre cadre of dead men walking. Not so, you, Frankenstein – or Adam, as the thoroughly enlightened Mary Shelley dreamed you into life with English literature's seminal Frankenstein; or, The Modern Prometheus way back in 1818. As played by the bizarro-world casting choice of a grimly ripped Eckhart, Frankenstein's creature is a dour, angsty being. No flattop or neck-bolts for him, just abs to die for and an updated 21st century cloak and scowl (and some nifty stitchery) that wouldn't look out of place in Christopher Nolan's Batman trifecta. Unfortunately, and despite the frequent, Matrix-esque battles he engages in, this particular riff on the continually evolving Frankenstein mythos is D.O.A. It's not alive, not alive, I tell you!
Based on Kevin Grevioux's graphic novel and produced by the group behind the Underworld films, I, Frankenstein certainly can't be accused of Karloffian lumbering; it has the topsy turvy Tilt-a-Whirl pace of a misfiring rocket. Director and writer Beattie crams in as much leaden exposition as he does overchoreographed CGI set-pieces. But unlike the reflexively self-referential and often downright self-deprecating Underworld franchise, Beattie and his cast play it all balefully straight. The only exception to the film's tone comes, not surprisingly, from Nighy, who artfully dredges up a miniscule portion of fun from the otherwise unfun proceedings.
The story begins essentially where Mary Shelley left off, with the creature's creator, Dr. Victor Frankenstein, perishing in the Arctic. After hastily burying his creator, the pensive, joyless Adam becomes something of a pawn in a multi-century shadow war between heaven and hell, with Otto as queen of the angelic gargoyles, and fallen angel Nighy marshaling his Savile Row-bespoke demons. Both sides are after Victor Frankenstein's diary, which, we are told, would be of great use to the hellion side, seeing as how Nighy's wealthy corporate demon-in-disguise is busily amassing corpses to create an undead army of, well, Frankensteinian proportions. Go figure.
Chuck's Yvonne Strahovski turns up as a scientist unwittingly assisting the nefarious Nighy and fills in the requisite love-interest plot slot without actually getting much loving from the existentially tormented Adam, who, over the centuries, has become the literal – albeit deceased – equivalent of Nietzsche's Übermensch and Zeno's archetypal Stoic. But, you know, there's a lot of aspects to him that neither heaven nor hell wouldn't, couldn't, shouldn't understand: He's a loner, Dottie, a rebel, although by film's end, he is Frankenstein and a monster no more.
Horror kids will recognize allusions to 1958's Frankenstein 1970 and Terence Fisher's Frankenstein Must Be Destroyed, and, to give cold comfort where due, I, Frankenstein is nowhere near as garishly, ghoulishly awful as Van Helsing, Universal's last attempt to resurrect its classic monsters. It's a grimly fiendish slog nonetheless, and hardly worth getting up out of the grave for.
A note to readers: Bold and uncensored, The Austin Chronicle has been Austin's independent news source for over 40 years, expressing the community's political and environmental concerns and supporting its active cultural scene. Now more than ever, we need your support to continue supplying Austin with independent, free press. If real news is important to you, please consider making a donation of $5, $10 or whatever you can afford, to help keep our journalism on stands.
READ MORE
More Aaron Eckhart Films
Roland Emmerich goes all guns blazing recreating the pivotal sea battle
Marc Savlov, Nov. 8, 2019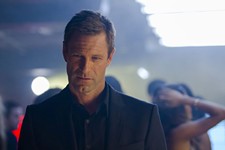 Demon possession thriller
Marc Savlov, Dec. 9, 2016
More by Marc Savlov
The Prince is dead, long live the Prince
Aug. 7, 2022
Texas-made luchadores-meets-wire fu playful adventure
April 29, 2022
KEYWORDS FOR THIS FILM
I, Frankenstein, Stuart Beattie, Aaron Eckhart, Yvonne Strahovski, Miranda Otto, Bill Nighy, Aden Young, Jai Courtney, Socratis Otto, Kevin Grevioux
MORE IN THE ARCHIVES