American Hustle
2013, R, 138 min. Directed by David O. Russell. Starring Christian Bale, Amy Adams, Bradley Cooper, Jeremy Renner, Jennifer Lawrence, Louis C.K., Robert De Niro, Michael Peña, Elisabeth Röhm, Jack Huston, Alessandro Nivola.
It's all about the hair in American Hustle: a small-time con man's elaborate comb-over; a well-meaning politician's rockabilly pompadour; a beautiful grifter's feathered mane; an ambitious G-man's pin-curl perm; a slightly unhinged blonde's pile-on. The movie is a time capsule of hairdos and hairdon'ts from the Carter era. A dark comedy loosely based on the FBI's Abscam sting operation in the late Seventies, this entertaining take on the American art of reinvention delights in the era's sense of fashion (costume designer Michael Wilkinson nails the look) without distracting from its dysfunctional collision of con artists, undercover agents, and mobsters. You never know what's going to happen next in Eric Warren Singer and David O. Russell's twisty screenplay in which things can derail at any minute. Players get played; scammers get scammed. What begins as a straightforward operation to ensnare a New Jersey mayor with dreams of a reinvigorated Atlantic City changes overnight into a big-game hunt for notorious mafiosi and greedy congressmen. If this is how things usually work, God help us all.
While the element of unpredictability invigorates American Hustle, it's not the stylistic wild ride you might expect from the previews. The wow factor keeps to a minimum. (Clearly, director Russell isn't interested in comparisons to Martin Scorsese.) Much of the drama internalizes, particularly in the dynamic between the two principal characters, the street-smart Irving Rosenfeld (Bale) and the faux British poseur Sydney Prosser (Adams). At heart, this is a love story between two inherently dishonest people who need to trust each other to survive. For these soul mates coerced into participation by the Feds, this is the most dangerous hustle of all because it's the one that threatens to break them apart. They're nothing without each other, romantically or criminally speaking. The wordless glances between them say everything.
Above everything else, Russell has an unerring talent for drawing out the best from his actors. Everyone here is in top form, though Cooper's near-manic FBI agent dictates some odd acting choices. Not surprisingly, Bale and Adams inhabit their hustlers like a second skin, down to Irving's shamelessly protruding potbelly and Sydney's near-bare breasts peeking out from every outfit she wears. Renner, Louis C.K. and Röhm also hold their own in less showy but watchable roles. Special mention, however, is reserved for Lawrence's mesmerizing turn as Irving's nut-job spouse, a Real Housewife on the verge of spontaneously combusting. (Things have a habit of catching fire when this gaga lady is around.) An unabashed extrovert who speaks first and thinks (maybe) later, Rosalyn Rosenfeld, ultimately holds all the cards in the elaborate operation underway – and she hasn't a clue. (But she knows she's gorgeous; watch her work a room with a single look.) It's a juicy role for any actress, but Lawrence takes it two or three steps further than anyone else who comes to mind could. She's a true original, a rara avis with beautiful plumage.
A note to readers: Bold and uncensored, The Austin Chronicle has been Austin's independent news source for over 40 years, expressing the community's political and environmental concerns and supporting its active cultural scene. Now more than ever, we need your support to continue supplying Austin with independent, free press. If real news is important to you, please consider making a donation of $5, $10 or whatever you can afford, to help keep our journalism on stands.
READ MORE
More David O. Russell
Family dysfunction looms large in the films of David O. Russell
Marjorie Baumgarten, Nov. 16, 2012
More David O. Russell Films
David O. Russell's madcap murder-mystery is a misfire
Kimberley Jones, Oct. 7, 2022
Jennifer Lawrence rises above family dysfunction in this comic biopic
Steve Davis, Dec. 25, 2015
More by Steve Davis
Ryan and Duchovny ponder the road not taken in magical rom-com
Nov. 3, 2023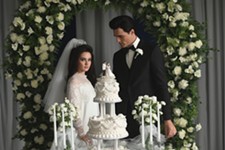 Measured journey behind closed doors of rock & roll's most famous marriage
Nov. 3, 2023
KEYWORDS FOR THIS FILM
American Hustle, David O. Russell, Christian Bale, Amy Adams, Bradley Cooper, Jeremy Renner, Jennifer Lawrence, Louis C.K., Robert De Niro, Michael Peña, Elisabeth Röhm, Jack Huston, Alessandro Nivola
MORE IN THE ARCHIVES