The Kings of Summer
2013, R, 93 min. Directed by Jordan Vogt-Roberts. Starring Nick Robinson, Gabriel Basso, Moises Arias, Nick Offerman, Erin Moriarty, Megan Mullally, Marc Evan Jackson, Alison Brie, Mary Lynn Rajskub.
Remember back when you were 14 years old? It's the no man's land in life: You're not a kid anymore, but you're hardly an adult either. In the quirky coming-of-age dramedy The Kings of Summer, three teenagers decide to free themselves from the shackles of adolescence and live on their own in a claptrap structure hidden in the Ohio forest, far from the civilization (read: parents) oppressing them. (But not so far that a rotisserie chicken from a roadside Boston Market isn't within walking distance.) For the idealistic Joe (Robinson), this independence is the ticket to manhood. The bucolic retreat he shares with his BFF Patrick (Basso) and their oddball sidekick Biaggio (Arias) is his Walden, a life in the woods where he can make his own rules, away from an autocratic father and the painful memory of his late mother. But in every Eden, there's always a snake.
The tone of The Kings of Summer is unique: Stand by Me by way of Napoleon Dynamite. It nails the jumbled emotions these boys (not men, not yet) face during their grand experiment, particularly when a female outsider enters the picture. As Virginia Woolf observed, growing up means losing certain illusions in order to acquire others. At the same time, non sequiturs abound in Chris Galletta's dialogue, occasionally venturing into the theatre of the absurd. A heated exchange between Joe's dad (who, in all honesty, is a real dick) and the Chinese food delivery man over the size of wontons will have you both laughing and scratching your head. (If there's some metaphorical meaning there, it's lost in translation.) Likewise, the pint-sized Biaggio is from another planet; nothing coming out of his mouth makes any sense. This corkscrew humor works both for, and against, The Kings of Summer. It's beguilingly different, but it ultimately confuses the film's third act when things unravel and paradise is lost.
Though Director Vogt-Roberts can't master the screenplay's tonal contradictions, he handles his actors well. As Joe's mean-spirited and deeply sad father, Offerman gives a darkly comic performance – it's his gruff, meat-loving character from television's Parks and Recreation with a dollop of paternal menace. The goggle-eyed Arias is so far out in left field he nearly steals the movie (especially with his dance moves), despite his character's odd fit in the narrative. But it's Robinson's tender portrayal of Joe that sticks in your mind. He and Tye Sheridan from Mud are the summer's real finds: young actors with promising futures. When Joe vainly tries to grow a mustache in his quest to become a man, you'll sigh in the memory of what life felt like at the age of 14. Never has facial hair looked so sweet, or so heartbreaking.
A note to readers: Bold and uncensored, The Austin Chronicle has been Austin's independent news source for over 40 years, expressing the community's political and environmental concerns and supporting its active cultural scene. Now more than ever, we need your support to continue supplying Austin with independent, free press. If real news is important to you, please consider making a donation of $5, $10 or whatever you can afford, to help keep our journalism on stands.
READ MORE
More Jordan Vogt-Roberts Films
Marc Savlov, March 17, 2017
More by Steve Davis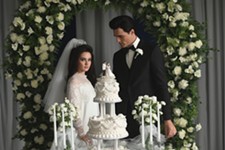 Measured journey behind closed doors of rock & roll's most famous marriage
Nov. 3, 2023
Ryan and Duchovny ponder the road not taken in magical rom-com
Nov. 3, 2023
KEYWORDS FOR THIS FILM
The Kings of Summer, Jordan Vogt-Roberts, Nick Robinson, Gabriel Basso, Moises Arias, Nick Offerman, Erin Moriarty, Megan Mullally, Marc Evan Jackson, Alison Brie, Mary Lynn Rajskub
MORE IN THE ARCHIVES