Keep the Lights On
2012, NR, 101 min. Directed by Ira Sachs. Starring Thure Lindhardt, Zachary Booth, Julianne Nicholson, Paprika Steen, Souleymane Sy Savane, Sebastian La Cause, Justin Reinsilber.
In Keep the Lights On, a spare domestic drama about addiction, filmmaker Ira Sachs makes regular use of a 1986 Arthur Russell song, "Soon-To-Be Innocent Fun/Let's See" – a title that perfectly evokes the playful beginnings of a love affair but, notably, hardly pauses for breath before announcing uncertainty. The love affair here is between a Danish emigré documentary maker, Erik (Lindhardt), and Paul (Booth), who is climbing the rungs at a New York publishing house. It doesn't take long for the happy bubble to burst.
They meet through a party line, and their first charged encounter (in the late Nineties) ends with Paul revealing he has a girlfriend. "Don't get your hopes up," he warns Erik. Soon after, when the two men have warmed to each other (and the girlfriend has fallen away), Paul takes a hit off a crack pipe as an overture to lovemaking – but not before he cautions Erik not to say anything; he wouldn't want his recreational drug use to get back to anyone at work. If Paul is not terribly chatty, he is at least frank about his deceptions. These early moments amount to the kind of first-warning system only hindsight can put a name on, and Erik – still giddy with new love, at the very beginning of a fraught, nine-year-long relationship – ignores Paul's blatant, buyer-beware admissions. Erik isn't interested, because whatever Paul is selling, Erik is buying. Because that is new love, wherein hard evidence falls in favor of the idealized. In a miniature, mirrored subplot, one woman, aching for a baby, dates a man who is done having children. But she likes him, so she stays put, until she no longer can.
That subplot plays on the periphery – we catch its arc only in snatches – but there is something that feels peripheral about the primary relationship between Erik and Paul, too. Sachs and his co-writer Mauricio Zacharias structure the film's near-decade span in extended snapshots (title cards announce the year), establishing patterns and proclivities – Erik's indecisiveness and slow-motion work process, Paul's deepening addiction and jagged efforts at recovery – without belaboring them. But where the work should show is in the character shadings, and the film too often takes its cue from aloof Paul. (Booth re-creates the same benign-smile chilliness of his role as the errant son on Damages; whether that is a limitation of the actor or the effect of script and direction, I couldn't say, but now's probably a good time to point out that the film draws heavily from the real-life relationship between Sachs and Bill Clegg, author of the memoirs Portrait of an Addict as a Young Man and Ninety Days. Alternately, the open-faced Lindhardt, as Sachs' surrogate, is absolute mesmerism.) The film evinces the breadth of the relationship, but not the depth. There's just not quite enough there there.
The texture, then, arrives in surprising byways: the non-diegetic Arthur Russell soundtrack, with his high-altitude singing voice and scratch-scrape of cello bow on string infusing the film with nearness, rawness; the Super 16 film format, like a campfire to warm your hands by (this magical thing called grain, you've been missed); and the casual rendering of a community of people – that percolating periphery. In its best stretches, Keep the Lights On feels like a first-rate, late-Seventies experimental student film, or early Scorsese. But then the cycle of addiction takes over the film, and the plot about stagnancy ends up stagnating the film itself. Still: There's a lot to like here, and if you're a traditionalist who hungers for a happy ending, you'll find it embedded in the opening credits.
For our interview with Ira Sachs, see "Scenes From a Marriage," Screens, Sept. 28.
A note to readers: Bold and uncensored, The Austin Chronicle has been Austin's independent news source for almost 40 years, expressing the community's political and environmental concerns and supporting its active cultural scene. Now more than ever, we need your support to continue supplying Austin with independent, free press. If real news is important to you, please consider making a donation of $5, $10 or whatever you can afford, to help keep our journalism on stands.
READ MORE
More Ira Sachs Films
Family drama is far less fun than a walk in the woods
Marc Savlov, Nov. 15, 2019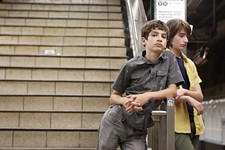 Friendships are tested in this bittersweet coming-of-age tale
Kimberley Jones, Sept. 2, 2016
More by Kimberley Jones
LISTEN: The Austin Chronicle Show on KOOP Radio
Oct. 22, 2021
A fleeting glimpse at the tragic life of the Greenwich Village singer
Oct. 22, 2021
KEYWORDS FOR THIS FILM
Keep the Lights On, Ira Sachs, Thure Lindhardt, Zachary Booth, Julianne Nicholson, Paprika Steen, Souleymane Sy Savane, Sebastian La Cause, Justin Reinsilber
MORE IN THE ARCHIVES