Journey 2: The Mysterious Island
2012, PG, 94 min. Directed by Brad Peyton. Starring Dwayne Johnson, Michael Caine, Josh Hutcherson, Vanessa Hudgens, Luiz Guzmán, Kristin Davis.
Every time the Rock (né Dwayne Johnson) stars in a film nominally based on the writings of Jules Verne, H.G. Wells, Robert Lewis Stevenson – or any combination thereof – somewhere a baby steampunk dies. That means we're down one future brass-accented zeppelin pilot already, and the way things are going we're going to need all the steam we can generate.
A sequel to 2008's inexplicably popular Journey to the Center of the Earth, this outing into lands unknown replaces Brendan Fraser with the pectorally spectacular presence of Johnson, and the result is a goofy-weird mishmash of some pretty swell CGI creatures and some downright lousy screenwriting. Imagine something along the lines of an ABC Afterschool Special updated for the age of the mediocre 3-D comedy/adventure: "A Very Special Mysterious Journey Into the Heart of Wayward Stepson/Stepdad Bonding" (with LOLcat-cute, eensy-weensy pachyderms, no less). This is serious WTF territory we've entered into, as bizarre a hybrid of cross-genre pollination as anything Verne produced in his day, only not anywhere near as permanently prescient, eternally imaginative, or, let's be honest, downright cogs-and-gears cool.
Teen heartthrob and future Hunger Gameser Hutcherson returns as genius bad boy Sean Anderson, who is accompanied on his trip to the cyclone-encircled island by his Navy vet stepfather, Hank (Johnson). After deciphering an encrypted radio signal, the sullen teen and the hulking man-thing-cum-legal guardian charter a rickety chopper piloted by Gabato (Guzmán, severely cornball) and his megahawt daughter (High School Musical's Hudgens), and then head straight into volcanic, monster island trouble. To be fair, this is likely the only chance you'll ever get to see Michael Caine (as Sean's eccentric explorer granddad) zipping around astride a giant bumblebee. I can only pray to the god that is Ray Harryhausen that it's also the one and only time we'll ever have to endure Johnson crooning "What a Wonderful World" and popping berries into Guzmán's open mouth by flexing his incredible dancing man boobs.
You can't make this shit up, but obviously, somebody did, and Verne and his fellow steampunk godfathers are doing the Watusi in their graves. Overall, this is dumb fun for families who prefer images over ideas, and gross-out yuks (giant bird poop!) to the utterly entrancing stop-motion animation of, say, 1961's outlandishly fun, Harryhausen-animated Mysterious Island. Me, I'd say get a sitter and take a fistful of magic mushrooms prior to embarking on this particular journey. That'd likely be one trippy sojourn you'd never forget or, at least, stop giggling over.
A note to readers: Bold and uncensored, The Austin Chronicle has been Austin's independent news source for over 40 years, expressing the community's political and environmental concerns and supporting its active cultural scene. Now more than ever, we need your support to continue supplying Austin with independent, free press. If real news is important to you, please consider making a donation of $5, $10 or whatever you can afford, to help keep our journalism on stands.
READ MORE
More Brad Peyton Films
The Rock! The ape! The lizard! The ... flying wolf?
Richard Whittaker, April 13, 2018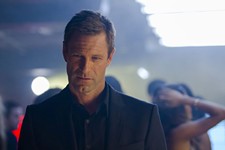 Demon possession thriller
Marc Savlov, Dec. 9, 2016
More by Marc Savlov
The Prince is dead, long live the Prince
Aug. 7, 2022
Texas-made luchadores-meets-wire fu playful adventure
April 29, 2022
KEYWORDS FOR THIS FILM
Journey 2: The Mysterious Island, Brad Peyton, Dwayne Johnson, Michael Caine, Josh Hutcherson, Vanessa Hudgens, Luiz Guzmán, Kristin Davis
MORE IN THE ARCHIVES