New Year's Eve
2011, PG-13, 118 min. Directed by Garry Marshall. Starring Halle Berry, Jessica Biel, Jon Bon Jovi, Abigail Breslin, Chris "Ludacris" Bridges, Robert De Niro, Josh Duhamel, Zac Efron, Hector Elizondo, Katherine Heigl, Ashton Kutcher, Seth Meyers, Lea Michele, Sarah Jessica Parker, Michelle Pfeiffer, Til Schweiger, Hilary Swank, Sofia Vergara.
Director Garry Marshall and screenwriter Katherine Fugate lift in toto the same framework of their previous collaboration, Valentine's Day – the holiday theme, the puzzle-piece narrative, the overstuffed cast of stars, the colorless execution. On New Year's Eve in New York City, disparate people try to make it a night to remember, angling for a midnight kiss, a rendezvous with a mystery woman, a reconciliation with a lost love, or the prize of pushing out the first baby of the new year. Marshall has corralled a considerable share of Oscar-caliber talent here, only to coax frankly embarrassing work from them; Swank, for instance, delivers every line with the same perky patience one uses to teach a first-grader how to tie a shoe.
There's a difference between pleasant escapism and just plain half-assedness, and New Year's Eve – a flimsy fiction to start with – can't even muster the strength of its own convictions. (Case in point: What the hell kind of caterer serves Jell-O at a black-tie function? Further, could no one show Heigl, as said caterer, a few knife skills before rolling camera?) There are blips of charm and genuine sentiment, so rare as to feel accidentally arrived at (see: teen dream Zac Efron, loosey-goosey and looking like the only actor having a whit of fun; Halle Berry, who could wring a tear out of a dead tree trunk). But mostly, New Year's Eve is appalling stuff, a poorly constructed, sentimental sham. Auld lang suck.
A note to readers: Bold and uncensored, The Austin Chronicle has been Austin's independent news source for over 40 years, expressing the community's political and environmental concerns and supporting its active cultural scene. Now more than ever, we need your support to continue supplying Austin with independent, free press. If real news is important to you, please consider making a donation of $5, $10 or whatever you can afford, to help keep our journalism on stands.
READ MORE
More New Year's Eve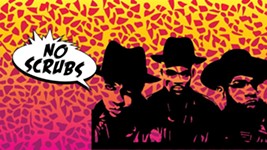 These are the many ways to say goodbye to 2017
Chronicle staff, Dec. 27, 2017
Make the last moments of 2014 count without tons of planning.
Chrontourage, Dec. 29, 2014
More Garry Marshall Films
The movie is a moneymaking contrivance, just like the holiday itself
Marjorie Baumgarten, April 29, 2016
Aggressively unfunny and unromantic, Valentine's Day's chief concern appears to have been the corralling of its cast of a thousand stars.
Kimberley Jones, Feb. 12, 2010
More by Kimberley Jones
In this week's issue: postmortem on the Ken Paxton impeachment trial, a profile of drag powerhouse Brigitte Bandit, and finalists revealed in the Best of Austin: Restaurants Readers Poll (get voting, y'all!)
Sept. 22, 2023
Fall fest also adds All of Us Strangers, The Holdovers
Sept. 14, 2023
KEYWORDS FOR THIS FILM
New Year's Eve, Garry Marshall, Halle Berry, Jessica Biel, Jon Bon Jovi, Abigail Breslin, Chris "Ludacris" Bridges, Robert De Niro, Josh Duhamel, Zac Efron, Hector Elizondo, Katherine Heigl, Ashton Kutcher, Seth Meyers, Lea Michele, Sarah Jessica Parker, Michelle Pfeiffer, Til Schweiger, Hilary Swank, Sofia Vergara
MORE IN THE ARCHIVES