Elite Squad: The Enemy Within
2011, NR, 115 min. Directed by José Padilha. Starring Wagner Moura, Irandhir Santos, André Ramiro, Milhem Cortaz, Maria Ribeiro.
Brazilian director Padilha was tapped to helm the much-anticipated RoboCop remake on the strength of this mad, muzzle-flashy burst of Rio de Janeiran ultraviolence and its commercial success. Elite Squad: The Enemy Within, which played at Fantastic Fest 2011, is a sequel to Padilha's 2007 Elite Squad, although it's not necessary to have seen the earlier film to enjoy this snappy exploitation outburst, which remains the highest-grossing film in the history of its native country.
The dashing, very Brazilian Wagner Moura returns as Lt. Col. Roberto Nascimento of BOPE (Special Police Operations Battalion), who, as this sequel opens, bungles a prison-hostage situation and becomes embroiled in a political feud with his superiors and the media, which denounce Nascimento's prohibitively bloody strategies. Rio's perpetually endangered populace feels differently, however. They see in Nascimento a heroic figure who can stem the spillover from the violence-prone, gang-run favelas into the city proper. (Rio's economy is, after all, dependent on its tourist trade.)
Padilha choreographs his many action sequences with near-mystical precision; he outdoes John Woo in the number of rounds expended, and his knack for building suspense via nail-bitingly long takes and balletic camera flourishes is guaranteed to annoy cinematic pacifists. The fact that the film's backstory is deeply rooted in Brazilian politics – power, corruption, and lies – only adds to the dreadful tension that permeates the film. Elite Squad: The Enemy Within questions which is worse: the dirty politicians who run the city or the bloodthirsty gang members who oversee the slums? Padilha's film offers no easy answers, but the title is a tip off as to where at least his sympathies lie.
A note to readers: Bold and uncensored, The Austin Chronicle has been Austin's independent news source for almost 40 years, expressing the community's political and environmental concerns and supporting its active cultural scene. Now more than ever, we need your support to continue supplying Austin with independent, free press. If real news is important to you, please consider making a donation of $5, $10 or whatever you can afford, to help keep our journalism on stands.
READ MORE
More José Padilha Films
The 1976 hijacking of Air France Flight 139, retold again.
Richard Whittaker, March 16, 2018
All set in Rio de Janeiro, this is a collection of short films
Marjorie Baumgarten, May 6, 2016
More by Marc Savlov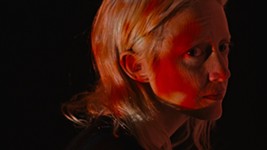 Identity melts in this psychotropic assassination brainblender
Oct. 2, 2020
Mangled Italian creature feature should be even shorter
Sept. 25, 2020
KEYWORDS FOR THIS FILM
Elite Squad: The Enemy Within, José Padilha, Wagner Moura, Irandhir Santos, André Ramiro, Milhem Cortaz, Maria Ribeiro
MORE IN THE ARCHIVES