Magic Trip
2011, R, 107 min. Directed by Alex Gibney, Alison Ellwood. Narrated by Stanley Tucci.
Using heretofore unseen archival footage found in Ken Kesey's barn after his death in 2001, directors Alison Ellwood and Alex Gibney (the latter won an Oscar in 2007 for Taxi to the Dark Side) reconstitute Kesey and his Merry Band of Pranksters' seminal, cross-country bus trip in 1964. "We weren't old enough to be beatniks, and we were a little too young to be hippies," Kesey says, in one of the many interviews, reminiscences, and audio snippets recorded in the years before his death. Kesey was already famous when he and speed-addled Neal Cassady conscripted an ancient yellow school bus, painted it (and repainted it, over and over), dubbed it "Further," and gathered together a handful of colorful cohorts – among them Ken Babbs, Ram Dass, and Kathy Casamo – for a trip to New York.
They took the long way 'round, in every sense imaginable, and planned to make a documentary along the way, hence this remarkable footage. The planned doc never materialized. For one thing, they never realized you have to sync the audio with the image in order to edit properly; for another, they were tripping balls 90% of the time. Nevertheless, the surviving imagery (with semi-accompanying audio) is, indeed, a trip. Here they are being pulled over by the cops and snarking their way out of a potential drug bust by pretending to be "real" filmmakers making a movie. And there they are rolling up to Timothy Leary's upstate New York home, a sprawling mansion with "scientist"-types none too eager to visit with, much less pay attention to, their psychedelic West Coast cousins. (Leary hid in his room the whole time the Pranksters were there and never once came out.)
Kesey, then as now, was the celebrated author of One Flew Over the Cuckoo's Nest and the less well-received Sometimes a Great Notion. A former college footballer, he had signed up some years earlier as a willing guinea pig in the then-popular research community's clinical experiments with LSD. One fascinating sequence consists of an audio tape of Kesey's ramblings as he trips out under strict supervision.
As crammed as it is with dead legends, who inspired generation after generation of bohemians and literary outlanders (Kerouac turns up, as does Ginsberg, but sadly, William S. Burroughs and his madcap artillery are nowhere to be seen), Magic Trip comes off nearly as scattershot as the events it depicts, which is a major stumbling block. Gibney and Ellwood have recruited actors to voice the late Pranksters where deemed necessary, and Stanley Tucci sporadically narrates, but this only makes the terminal chaos onscreen more disjointive. The real audio is usually given away by tape hiss, while the scripted (or transcripted) audio is flawless, making for an uneven experience about an unsteady (if borderline revolutionary) group in a time of upheaval. Which may well have been the point. Still, a firmer editorial hand could have been used here. Like Further, Magic Trip goes all over the place but never seems to end up anywhere all that revelatory.
A note to readers: Bold and uncensored, The Austin Chronicle has been Austin's independent news source for almost 40 years, expressing the community's political and environmental concerns and supporting its active cultural scene. Now more than ever, we need your support to continue supplying Austin with independent, free press. If real news is important to you, please consider making a donation of $5, $10 or whatever you can afford, to help keep our journalism on stands.
READ MORE
More Alex Gibney
Nobody's safe from man-with-a-camera Alex Gibney
Marc Savlov, July 11, 2008
More Alex Gibney Films
Alex Gibney drops his October Surprise in this dissection of Trump's coronavirus disaster
Richard Whittaker, Oct. 9, 2020
Chilling cyber warfare doc explores the Stuxnet virus
Marc Savlov, July 22, 2016
More by Marc Savlov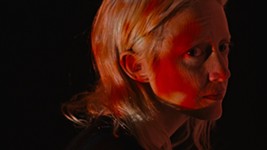 Identity melts in this psychotropic assassination brainblender
Oct. 2, 2020
Mangled Italian creature feature should be even shorter
Sept. 25, 2020
KEYWORDS FOR THIS FILM
Magic Trip, Alex Gibney, Alison Ellwood
MORE IN THE ARCHIVES