Devil
2010, PG-13, 80 min. Directed by John Erick Dowdle. Starring Chris Messina, Geoffrey Arend, Logan Marshall-Green, Bojana Novakovic, Jenny O'Hara, Bokeem Woodbine.
It's not exactly Phone Booth in an elevator with Rosemary's baby's daddy, as the trailer had genre fans believing – alas, no intricately warped Larry Cohen plotting here; more's the pity. Devil is, apparently, the opening salvo in M. Night Shyamalan's incoming The Night Chronicles series, and it would have made more of an impact if it just cut the cable and let the whole claustrophobic affair plummet into the abyss. As it is, the script (by Brian Nelson from a story by Shyamalan) spends an inordinate amount of expositional time outside the hellishly cramped confines of the 'vator as Philly Detective Bowden (Messina), a recovering alcoholic, monitors the unfolding events via closed-circuit TV and finds diabolic underpinnings in a confined situation with great potential for suspense. In short, five strangers with unknown but assumed ties to one another are trapped in a mysteriously immobile elevator, and, no surprise, there's something else in there with them. Fear, mounting anxiety, and a decided lack of Xanax are the rules of the game, and when the lights begin to flicker and then go out completely, bloodshed enters the squabbling fray, considerably upping the paranoiac ante. Dowdle, who helmed Quarantine, the U.S. remake of the superior Spanish film [Rec], does manage a few moments of well-calibrated terror (kudos to the foley masters behind Devil's creepified soundscape), and Shyamalan's ongoing trickery with audience expectations is decidedly in effect (nothing is entirely coincidental in this one way lift to doom), but it's not enough to merit a full 80 minutes. In the end, Devil feels like an ingenious short film pumped up for theatrical release. Shyamalan's story is sound, but the execution dragged me to hell and left me there wondering if his much-rumored sequel to Unbreakable was ever going to arrive.
A note to readers: Bold and uncensored, The Austin Chronicle has been Austin's independent news source for over 40 years, expressing the community's political and environmental concerns and supporting its active cultural scene. Now more than ever, we need your support to continue supplying Austin with independent, free press. If real news is important to you, please consider making a donation of $5, $10 or whatever you can afford, to help keep our journalism on stands.
READ MORE
More Devil
Michael Ventura, Dec. 23, 2005
More John Erick Dowdle Films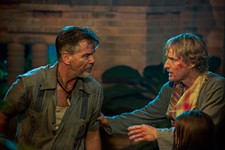 Owen Wilson heads an American family swept up in a Southeast Asian coup
Marc Savlov, Aug. 26, 2015
There are things in the catacombs beneath Paris that should remain underground.
William Goss, Sept. 5, 2014
More by Marc Savlov
The Prince is dead, long live the Prince
Aug. 7, 2022
Texas-made luchadores-meets-wire fu playful adventure
April 29, 2022
KEYWORDS FOR THIS FILM
Devil, John Erick Dowdle, Chris Messina, Geoffrey Arend, Logan Marshall-Green, Bojana Novakovic, Jenny O'Hara, Bokeem Woodbine
MORE IN THE ARCHIVES