The Last Exorcism
2010, PG-13, 88 min. Directed by Daniel Stamm. Starring Patrick Fabian, Ashley Bell, Louis Herthum, Iris Bahr, Caleb Landry Jones, Tony Bentley, Shanna Forrestall.
Every generation gets the devil it deserves, and this faux documentary pulls few punches in its nihilistic depiction of religious belief vs. religious disbelief amid the Spanish moss and ramshackle, moldering manses of southern Louisiana. Produced by Eli Roth and the trio of producers behind Children of Men and the Dawn of the Dead remake, The Last Exorcism drops subtle winks to its cinematic forerunners (in particular Lucio Fulci's The Gates of Hell and, surprisingly, Jack Starrett's terminally underrated Race With the Devil) while managing to keep things very interesting via restrained effects work and an eerily satisfying score by Nathan Barr. It's a creep-out of the first order. Fabian plays the Rev. Cotton Marcus, a formerly crooked preacher man who has experienced a crisis of faith and gone legit. Now hoping to expose the tricks of his fraudulent trade, Marcus travels to the farmstead of Louis Sweetzer (Herthum), a taciturn drunk who claims his doe-eyed daughter, Nell (Bell), is possessed. Marcus brings the camera crew along with him, and the first half of the film is flush with the debunking of charlatanry in a manner that both Harry Houdini and Penn & Teller could appreciate. It all goes to hell, of course, but not before some genuine suspense and meticulously calibrated scares are invoked. The Last Exorcism plays a bit like The Exorcist meets The Blair Witch Project – the faux-doc form dictates that, more or less – but it strives to be much more than recent, similarly inclined films (including the feeble Paranormal Activity). There's a meaty thread of actual argument nattering beneath the twisted B-movie face of the the film, vis-à-vis what transpires when the unstoppable force of religion collides spinning-head-on with the immovable object of the secular world. The cast, in particular Bell (whose performance is un-CGI-aided and all the more disconcerting for it), is uniformly excellent and believable as "documentary" subjects, and Stamm's sense of what to reveal (or not) is as cunning as, well, the devil. The shock ending isn't all that shocking if you're a fan of genre films, but it's nonetheless effective despite the fact that it sidesteps several key questions. Never mind: It's hellishly fun.
A note to readers: Bold and uncensored, The Austin Chronicle has been Austin's independent news source for almost 40 years, expressing the community's political and environmental concerns and supporting its active cultural scene. Now more than ever, we need your support to continue supplying Austin with independent, free press. If real news is important to you, please consider making a donation of $5, $10 or whatever you can afford, to help keep our journalism on stands.
READ MORE
More The Last Exorcism
Last Exorcism interview with Eli Roth, Daniel Stamm
Marc Savlov, Aug. 21, 2010
More Daniel Stamm
"Exists", "13 Sins" and "The Guest" kick down the door
Richard Whittaker, Feb. 5, 2014
More Patrick Fabian Films
Atlas isn't the only one to shrug off this tiresome load of Ayn Rand – but with poor production values.
Marjorie Baumgarten, Oct. 19, 2012
More by Marc Savlov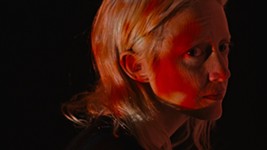 Identity melts in this psychotropic assassination brainblender
Oct. 2, 2020
Mangled Italian creature feature should be even shorter
Sept. 25, 2020
KEYWORDS FOR THIS FILM
The Last Exorcism, Daniel Stamm, Patrick Fabian, Ashley Bell, Louis Herthum, Iris Bahr, Caleb Landry Jones, Tony Bentley, Shanna Forrestall
MORE IN THE ARCHIVES