Cats & Dogs: The Revenge of Kitty Galore
2010, PG, 82 min. Directed by Brad Peyton. Voices by Christina Applegate, Katt Williams, Bette Midler, Neil Patrick Harris, Sean Hayes, Wallace Shawn, Roger Moore, James Marsden, Nick Nolte. Starring Chris O'Donnell, Jack McBrayer.
Although it's great fun for the under-8 set and for those of us monitoring the chaos theory that is Nolte's career of late, this film is otherwise mediocre and features some of the most uninvolving 3-D CGI since Clash of the Titans earlier this year. This sequel to 2001's Cats & Dogs is really just another reason to go see Toy Story 3 (again). Mixing live-action cats, dogs, a Williams-voiced pigeon, and a mouse whose import to the story is dubious at best, Cats & Dogs riffs and lifts heavily from the James Bond oeuvre, but with, you know, cats and dogs. The premise was inspired – sort of – the first time around, but not so much nine years on. In the interim, Pixar has achieved the type of animation domination and melancholic comedy genius that was last embodied with such overstuffed wealth by a hopelessly human live-action cartoon named Chaplin, and these days far more is required to prick up the ears of kid viewers and set their metaphorical tails a-waggin'. Cute may be what the filmmakers aimed for, but far too many of the film's episodic, strung-together sequences fail to be anything more than that. Marsden voices Diggs, an overeager San Francisco police dog sent to the kennel by department brass after he botches a – ahem – collar and lands his human partner (O'Donnell) in hot water. Enter Butch, an Anatolian recruiter (voiced by a weary-sounding Nolte) for DOGS, a secret canine organization that takes the phrase "man's best friend" extremely literally. Overseen by top beagle Lou (Harris), the dogs of DOGS are intent on thwarting a plan by an evil former agent of their feline counterorganization MEOWS to take over the world via screechy noises. That rogue pussy is, of course, the nudie-cutie sphynx Kitty Galore (Midler, sounding like she's having a blast). Low-grade, self-deprecating action-comedy (not unlike that encountered in the Bond franchise's lesser, late-Seventies-to-mid-Eighties outings) ensues. Cats & Dogs: The Revenge of Kitty Galore's high point comes very early on as the former Bond chanteuse, Dame Shirley Bassey, oozily croons the opening theme over a canine/feline version of trippy 007 credits sequences. Nice touch, that, as is having Sir Roger Moore appear as the cunningly named DOGS mastermind Tab Lazenby, but these and a few other blink-and-you'll-miss-'em in-jokes are barely enough to keep most adult minds wandering back to the glory days of Lancelot Link: Secret Chimp. (And yes, there's a split-second reference to that, too.)
A note to readers: Bold and uncensored, The Austin Chronicle has been Austin's independent news source for over 40 years, expressing the community's political and environmental concerns and supporting its active cultural scene. Now more than ever, we need your support to continue supplying Austin with independent, free press. If real news is important to you, please consider making a donation of $5, $10 or whatever you can afford, to help keep our journalism on stands.
READ MORE
More Brad Peyton Films
The Rock! The ape! The lizard! The ... flying wolf?
Richard Whittaker, April 13, 2018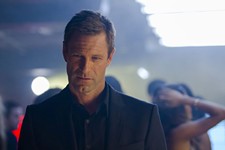 Demon possession thriller
Marc Savlov, Dec. 9, 2016
More by Marc Savlov
Texas-made luchadores-meets-wire fu playful adventure
April 29, 2022
Technology and a lack of laughs get in the way of this rom-com
April 22, 2022
KEYWORDS FOR THIS FILM
Cats & Dogs: The Revenge of Kitty Galore, Brad Peyton, Chris O'Donnell, Jack McBrayer
MORE IN THE ARCHIVES