Ramona and Beezus
2010, G, 104 min. Directed by Elizabeth Allen. Starring Joey King, Selena Gomez, John Corbett, Bridget Moynahan, Ginnifer Goodwin, Josh Duhamel.
Children's author Beverly Cleary penned Beezus and Ramona back in 1955, although older sister Beezus – short for Beatrice – would quickly take a backseat to Ramona, the scrappy and imaginative accused "pest" who would go on to headline in Cleary's seven sequels. This film adaptation puts the same emphasis on Ramona (King), reshuffling the books' timeline and presenting a sort of greatest hits – the toothpaste! the burr tiara! – of the misadventures of Ramona Quimby of Klickitat Street, Portland, Ore. Middle book Ramona and Her Father supplies the bulk of the plot here, and it was built to last: Scripters Laurie Craig and Nick Pustay didn't have to stretch the imagination much to retool Mr. Quimby's layoff circa 1977 to corporate downsizing in 2010. Corbett (Sex and the City) plays the sudden househusband Robert Quimby, and his amaranthine aura of dorky benignancy is put to good use; he has a cozy rapport with the child actress King. All of the key parts are well-cast, including Disney Channel star Gomez as Beezus, splitting the difference between a big sister's tyranny and tenderness. Refreshingly anti-princess and sweet without degrading into sugary, Ramona and Beezus animates Ramona's frequent flights of fancy with DIY-like sequences that literalize, quite charmingly, how a kid colors the world. And if you're Ramona Quimby, it's very rarely inside the lines.
A note to readers: Bold and uncensored, The Austin Chronicle has been Austin's independent news source for almost 40 years, expressing the community's political and environmental concerns and supporting its active cultural scene. Now more than ever, we need your support to continue supplying Austin with independent, free press. If real news is important to you, please consider making a donation of $5, $10 or whatever you can afford, to help keep our journalism on stands.
READ MORE
More Elizabeth Allen Films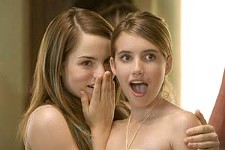 Based on a young adult novel by Alice Hoffman, the film is about two best girlfriends who meet up with … a mermaid!
Marrit Ingman, March 3, 2006
More by Kimberley Jones
In this week's issue, we report on a deadly confrontation Downtown, and the newly released footage of the Michael Ramos shooting
July 31, 2020
July 24, 2020
KEYWORDS FOR THIS FILM
Ramona and Beezus, Elizabeth Allen, Joey King, Selena Gomez, John Corbett, Bridget Moynahan, Ginnifer Goodwin, Josh Duhamel
MORE IN THE ARCHIVES