My Sister's Keeper
2009, PG-13, 109 min. Directed by Nick Cassavetes. Starring Cameron Diaz, Jason Patric, Abigail Breslin, Sofia Vassilieva, Evan Ellingson, Alec Baldwin, Joan Cusack, Thomas Dekker.
Anyone who watched (and probably wept his or her way through) the swoony 2004 melodrama The Notebook knows Cassavetes is not a man to leave a spot of sap untapped, and in My Sister's Keeper, he pulls out a very big drill indeed. Enter another notebook, this one the memory book of teenage cancer patient Kate Fitzgerald (Vassilieva), into which she pastes the photos and bric-a-brac of her short but fraught life with a family at war. Generalissima is mother Sara (Diaz), a former lawyer who quit her job to devote herself full-time to battling Kate's cancer. Sara attacks with a single-minded ferocity, one that stretches to the ethically questionable decision to engineer with her firefighter husband, Brian (Patric), a genetically compatible "designer baby" named Anna (Breslin). The film's timeline jags here and there, but it opens more or less at a crucial juncture, when Anna, now 11, hires an ambulance-chasing lawyer (Baldwin) to sue her parents for her medical emancipation. After years of enduring painful and invasive procedures to prolong her sister's life, Anna is balking at her next surgery – a kidney transplant that would have an unquestionable impact on her future quality of life but without which Kate would surely die. Despite Joan Cusack's lovely, understated turn as the judge assigned to Anna's case, there's very little meat on the bone of this legal subplot; it seems to only intermittently hold the attention of Cassavetes and his co-writer Jeremy Leven. That unfocused feel runs throughout, from the opening frames' heavy use of a voiceover that bounces from one character to the next (which, I'm told, mimics the shifting point of view of Jodi Picoult's bestselling source novel) to several imagistic, toeing-indulgent montages, including one devoted to Brian and Sara's neglected son, Jesse (Ellingson), set rather perplexingly to a guitar-strummed cover of "Girls Just Want to Have Fun." The spectrum swings wide between moments like this – moments of an almost bewildering tonal ungainliness (as when Baldwin, in his signature ham-gruff growl, voices-over "The kid wasn't lying" like some Sam Spade wannabe) – to the opposite extreme of the pat and predictable in both plot and dialogue. (Won't someone please, please close the book on characters shouting out, "I'll see you in court!"?) Still, what Cassavetes can do without a doubt is pull terrific performances from his actors: He corralled a cast of pretty, milky young things in 2007's overlooked Alpha Dog and extracted a rare romanticism from Sean Penn a decade earlier in She's So Lovely. Diaz's shrillness works here to her advantage (although she doesn't feel quite old enough, or ragged enough, to play a materfamilias), while Patric takes a scripted saint and makes a living, breathing, bruised but not broken man out of him. The actors, likable to a one, burrow their way in to even this most resistant of hearts, so that when two characters push a box of Kleenex back and forth between them, one can't help but sniffle in tandem. Unsubtleties be damned, our defenses fall. Meanwhile, Cassavetes' reign as the go-to waterworks man remains uncontested.
A note to readers: Bold and uncensored, The Austin Chronicle has been Austin's independent news source for over 40 years, expressing the community's political and environmental concerns and supporting its active cultural scene. Now more than ever, we need your support to continue supplying Austin with independent, free press. If real news is important to you, please consider making a donation of $5, $10 or whatever you can afford, to help keep our journalism on stands.
READ MORE
More Nick Cassavetes Films
Cameron Diaz, Leslie Mann, and Kate Upton play gals who team together to ruin the mutual philanderer in their lives.
Marjorie Baumgarten, April 25, 2014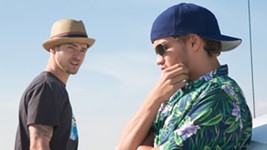 It's a soggy true-crime drama – too serious to be trashy, too trashy to be serious.
Marrit Ingman, Jan. 12, 2007
More by Kimberley Jones
Dry love-triangle comedy sacrifices honesty for hollow style
Feb. 3, 2023
Concern over icy roads prompts closures
Jan. 30, 2023
KEYWORDS FOR THIS FILM
My Sister's Keeper, Nick Cassavetes, Cameron Diaz, Jason Patric, Abigail Breslin, Sofia Vassilieva, Evan Ellingson, Alec Baldwin, Joan Cusack, Thomas Dekker
MORE IN THE ARCHIVES