Splinter
2008, R, 82 min. Directed by Toby Wilkins. Starring Paulo Costanzo, Jill Wagner, Shea Whigham, Rachel Kerbs.
Featuring as it does shape-shifting fungal porcupines from outer space, Splinter handily wins this month's "Whaaa …?!" competition by a huge, um, prick. Granted, the only other entrants are Saw V and Quarantine, but they're both masterful exercises in pure logic and conservative plotting compared with this wild ride into headache-inducing shaky-cam land. Splinter initially gets by on sheer weirdness alone; reanimated roadkill sprouting wicked-looking black spines is not a horror trope I've come across before. Too soon though, it metastasizes into just one more film about honeymooners and white-trashers trapped in a rural gas station by things unknown. It's a smallish subgenre, which also includes Stephen King's Maximum Overdrive and Robert R. McCammon's Nightcrawlers (the latter adapted by William Friedkin for CBS' mid-Eighties Twilight Zone restart), and it riffs on genre godfather George Romero's original Night of the Living Dead but manages none of that nightmare's doomster wit or gut-churning horror. Here, Costanzo and Wagner are a mismatched pair of young lovers – Costanzo's Seth is first portrayed as an emasculated, bespectacled wuss, Wagner's Polly as a leggy, blond überfrau – who are carjacked by Whigham's gun-toting convict Dennis and his tweaker squeeze Lacey (Kerbs) while camping out on Rural Route, USA. Whigham (Wristcutters: A Love Story) is the best thing Splinter has going for it. His bandit-on-the-lam skittishness plays into the film's overall sense of minor-league paranoia, but it's hardly enough to qualify as a groundbreaking performance. The only truly jarring moments happen in macro shots of the parasitic creature's nasty pokers extruding from the pores of the dead and soon-to-be-dead. It's a totally original concept, monsterwise, and appreciated as such, but you come away from Splinter feeling it would have made a far more effective short than the feature-length drag it is.
A note to readers: Bold and uncensored, The Austin Chronicle has been Austin's independent news source for almost 40 years, expressing the community's political and environmental concerns and supporting its active cultural scene. Now more than ever, we need your support to continue supplying Austin with independent, free press. If real news is important to you, please consider making a donation of $5, $10 or whatever you can afford, to help keep our journalism on stands.
READ MORE
More Paulo Costanzo Films
In this amusing film based on a screenplay by Douglas Coupland, a 29-year-old contemplates life's purpose and the meaning of "winning."
Marrit Ingman, April 20, 2007
The sleepy Desert Savings Bank is about to be hit – from here to Sunday and then some. Scorched is a new bank-heist movie cast ...
Marjorie Baumgarten, Aug. 1, 2003
More by Marc Savlov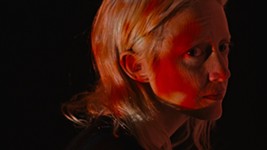 Identity melts in this psychotropic assassination brainblender
Oct. 2, 2020
Mangled Italian creature feature should be even shorter
Sept. 25, 2020
KEYWORDS FOR THIS FILM
Splinter, Toby Wilkins, Paulo Costanzo, Jill Wagner, Shea Whigham, Rachel Kerbs
MORE IN THE ARCHIVES