Max Payne
2008, PG-13, 100 min. Directed by John Moore. Starring Mark Wahlberg, Mila Kunis, Beau Bridges, Chris "Ludacris" Bridges, Chris O'Donnell, Donal Logue, Olga Kurylenko.
Based on the popular first-person shooter from Rockstar Games, Max Payne has been adapted for the screen by UT-Austin alum Beau Thorne. He does a fine job of fleshing out what is essentially a convoluted shoot-'em-up better suited to the joystick-and-POV combo: The dialogue crackles and ricochets just like the never-ending lead fusillade. Trouble is, no matter how much craft Thorne poured into this particular script and no matter how polished the noirish, literate dialogue may be, the end result comes out of the mouth of Wahlberg. That's not good, because the actor bites down hard on the words before they barely have time to exit his mouth. He's so bleakly stoic in his characterization that he ends up trapping inside whatever emotional punch the original dialogue may have carried. But maybe that's the point. Payne is a NYPD cold-case cop who was assigned to the police-department equivalent of the dead-letter office after his wife and child were killed by cityscape scum and he went edgewise. A loose cannon with no real target, Payne embodies equal parts Will Eisner's The Spirit and free-floating, postwar nihilism. Which war? Does it matter? Not really. With Payne, it's personal. Understandably obsessed with tracking down his family's killers, he stalks through a generically gothic Gotham, searching for the Valkyrie tattoo that marks his quarry. He's joined in his solitary quest by a leggy Eastern European assassin (That '70s Show's Kunis), whose sister may have been snuffed by the same wild, drug-addled villains. And then there's Bridges, who is cast unexpectedly – and, it must be said, badly – as Payne's former ally in the war on crime, now gone dark and possibly untrustworthy. (The character's current gig handling security for a presumably nefarious pharmaceutical company is something of a tip-off for audiences who haven't played the video game.) It's all a bit too much like The Crow meets a whole lotta slo-mo ordnance, particularly when shadowy Valkyries swoop in to snatch up the fallen. Wahlberg seems to have adopted an anvil as his actor's template this time out, which renders his Payne just one more angry shadow haunting the CGI-benighted alleyways of a film that feels far too familiar for the likes of Wahlberg to juice up, hallucinatory Valkyries or no.
A note to readers: Bold and uncensored, The Austin Chronicle has been Austin's independent news source for almost 40 years, expressing the community's political and environmental concerns and supporting its active cultural scene. Now more than ever, we need your support to continue supplying Austin with independent, free press. If real news is important to you, please consider making a donation of $5, $10 or whatever you can afford, to help keep our journalism on stands.
READ MORE
More John Moore Films
Bruce Willis' John McClane is like Wile E. Coyote – always in the wrong place when things blow up but always persevering.
Louis Black, Feb. 15, 2013
Julia Stiles is miscast, although Mia Farrow delights in this unnecessary remake of a perfectly good child-as-Antichrist movie.
Marc Savlov, June 9, 2006
More by Marc Savlov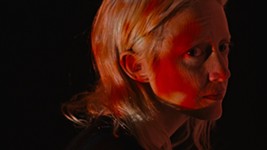 Identity melts in this psychotropic assassination brainblender
Oct. 2, 2020
Mangled Italian creature feature should be even shorter
Sept. 25, 2020
KEYWORDS FOR THIS FILM
Max Payne, John Moore, Mark Wahlberg, Mila Kunis, Beau Bridges, Chris "Ludacris" Bridges, Chris O'Donnell, Donal Logue, Olga Kurylenko
MORE IN THE ARCHIVES