Quarantine
2008, R, 89 min. Directed by John Erick Dowdle. Starring Jennifer Carpenter, Steve Harris, Jay Hernandez, Johnathon Schaech, Columbus Short, Andrew Fiscella, Rade Serbedzija, Greg Germann, Bernard White, Dania Ramirez.
Why this effective remake of the 2007 Spanish zombie-contagion film [Rec] wasn't screened in advance for the film press is a mystery on a par with why there aren't more Halloween horror releases this year. Certainly Quarantine, which takes the kaiju eiga (monster) verité of Cloverfield and repurposes it in the service of baser, gooshier thrills, has more startles per sequence than you'd expect given that it's been unceremoniously dumped into an abysmal thriller market with precious little fanfare. With all the film's running around in the dark shot from POV angles, it does come off as 28 Weeks Later meets David Cronenberg's Rabid or, alternately, an un-fun-house mirror image of Night of the Living Dead with the zombies barricaded inside with you. Not a bad idea at all, frankly, and for much of the time, the film cleverly ratchets up the dread level via an series of ill-lit, jittery encounters between the known and the unknown, the drooly, growly infected and their soon-to-be drooly victims. It's also more than a little like George Romero's Diary of the Dead but less self-aware, ironic, and cheerlessly fun. Quarantine opens "live" (no titles, no explanation), with Los Angeles weekend-news personality Angela Vidal (Carpenter) taping a puff-piece segment at the local firehouse, alternately goofing it up with LAFD members Jake (Hernandez) and Fletcher (The Doom Generation's Schaech, who fully invests himself in a relatively minor role and a supremely major mustache) and killing time, waiting for something, anything, to happen. A late-night call sends firefighters, newswoman, and cameraman (the rarely glimpsed Harris) to a curiously ornate apartment building peopled by an engaging cross section of Los Angelenos. No sooner does everyone enter the building (it turns out reports of a resident's screams brought them there, but that's almost instantly irrelevant) than they're quarantined and sealed inside, with the CDC, LAPD, and National Guard snipers offering zero explanation on the outside. And then there's that Peter Jackson-esque Sumatran rat-monkey thing scurrying around. Yikes. For all its hyperkinetic camerawork and Carpenter's breathless, panic-attacky hysterics (and some unnervingly realistic gore effects), Quarantine is a one-note nightmare, nicely pitched to the high-C howls of the bitten and the biters but offering considerably less froth than last year's The Signal, which mined similar nightmares with far more fulsome results.
A note to readers: Bold and uncensored, The Austin Chronicle has been Austin's independent news source for over 40 years, expressing the community's political and environmental concerns and supporting its active cultural scene. Now more than ever, we need your support to continue supplying Austin with independent, free press. If real news is important to you, please consider making a donation of $5, $10 or whatever you can afford, to help keep our journalism on stands.
READ MORE
More John Erick Dowdle Films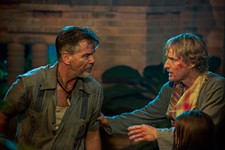 Owen Wilson heads an American family swept up in a Southeast Asian coup
Marc Savlov, Aug. 26, 2015
There are things in the catacombs beneath Paris that should remain underground.
William Goss, Sept. 5, 2014
More by Marc Savlov
The Prince is dead, long live the Prince
Aug. 7, 2022
Texas-made luchadores-meets-wire fu playful adventure
April 29, 2022
KEYWORDS FOR THIS FILM
Quarantine, John Erick Dowdle, Jennifer Carpenter, Steve Harris, Jay Hernandez, Johnathon Schaech, Columbus Short, Andrew Fiscella, Rade Serbedzija, Greg Germann, Bernard White, Dania Ramirez
MORE IN THE ARCHIVES