The House Bunny
2008, PG-13, 97 min. Directed by Fred Wolf. Starring Anna Faris, Colin Hanks, Emma Stone, Rumer Willis, Katharine McPhee, Sarah Wright, Dana Goodman, Kat Dennings, Christopher McDonald, Beverly D'Angelo.
This empty-headed comedy about a Playmate who finds herself a house mother to a group of misfit sorority sisters is little more than a recycled version of Legally Blonde with bunny ears. (Not surprisingly, both films were penned by screenwriters Karen McCullah Lutz and Kirsten Smith.) After being unceremoniously evicted from the mansion by Hef himself, sweet but dimwitted Shelley Darlingson (Faris) has nowhere to go, having few job skills to prepare her for the world outside the bunny bubble. Out of necessity, Shelley ends up at the run-down Zeta Alpha Zeta house, which quickly becomes the most popular spot on campus once she nurtures her girls by teaching them to wear too much make-up and too little clothing. In other words, dress like a whore, and you're sure to be popular. While the female empowerment theme is a bit muddled in The House Bunny, the film lacks the confident presence of someone like Reese Witherspoon to gloss over the mixed signals it gives about femininity and individualism. It's not that Faris isn't up to the task. As the film goes along, her performance grows on you – she has a Goldie Hawn quality about her here – but the character is never given the opportunity to command the silliness onscreen in the way that Elle Woods gave Witherspoon the opportunity to shine. Similarly, Faris' co-stars have little to do but go from geek to glam, though Goodman nearly steals the film as the rough-hewn Zeta girl with a perpetual snarl on her face. (And yes, among the ragtag sorority girls are Bruce and Demi's daughter wearing a body cast and American Idol runner-up McPhee in her third trimester.) While the film's nod to Revenge of the Nerds promises some good-natured rooting for the underdog, Lutz and Smith's script doesn't follow through on that premise and instead relies on lame plot devices to bring things to an abrupt finish. That's not to say that a longer running time would have salvaged The House Bunny, but it might have given it the chance to put some much-needed spring in its step.
A note to readers: Bold and uncensored, The Austin Chronicle has been Austin's independent news source for over 40 years, expressing the community's political and environmental concerns and supporting its active cultural scene. Now more than ever, we need your support to continue supplying Austin with independent, free press. If real news is important to you, please consider making a donation of $5, $10 or whatever you can afford, to help keep our journalism on stands.
READ MORE
More Fred Wolf Films
When a popular wildlife TV show starts slipping in the ratings, the clueless hosts go off to the Andes in search of Bigfoot and big ratings. Big mistake.
Kimberley Jones, Feb. 8, 2008
More by Steve Davis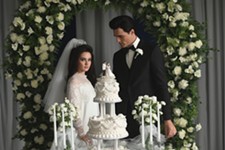 Measured journey behind closed doors of rock & roll's most famous marriage
Nov. 3, 2023
Ryan and Duchovny ponder the road not taken in magical rom-com
Nov. 3, 2023
KEYWORDS FOR THIS FILM
The House Bunny, Fred Wolf, Anna Faris, Colin Hanks, Emma Stone, Rumer Willis, Katharine McPhee, Sarah Wright, Dana Goodman, Kat Dennings, Christopher McDonald, Beverly D'Angelo
MORE IN THE ARCHIVES