The Longshots
2008, PG, 94 min. Directed by Fred Durst. Starring Ice Cube, Keke Palmer, Tasha Smith, Jill Marie Jones, Dash Mihok, Matt Craven, Glenn Plummer, Garrett Morris.
I'm not exactly sure how to put this – not quite sure I believe it myself, honestly – but Durst, lead singer of Limp Bizkit (perhaps the lousiest rock band in the long history of lousy rock bands), isn't half bad at making movies. Though it's only his second effort (the first being last year's Tribeca Film Festival award-winner The Education of Charlie Banks), The Longshots has a sense of maturity and restraint I didn't think the mind behind rap-metal anthem "Nookie" ("I did it all for the nookie, so you can take that cookie and stick it up your … Yeah!") was capable of. Serves me right for judging a book by its enormous puffy jacket and backward baseball cap. Almost more impressive, though, than Durst's building a film career out of the ashes of his mercifully cut-short music career is the fact that he's doing it in one of Hollywood's most pitfall-ridden genres: the inspirational sports movie, where heartstrings are just waiting to be pulled, violins are always ready to weep, and, if you're not careful, sympathy can easily tumble into schmaltz. The Longshots is "inspired by" the story of Jasmine Plummer, an 11-year-old who was the first girl to play in the Pop Warner youth football league. Played by Palmer (Akeelah and the Bee), Jasmine is as forlorn and abandoned as the Midwestern factory town she comes from; her loneliness is reflected in the empty streets and trash-filled parks she walks through every day, her head buried in a book. Meanwhile Jasmine's uncle, Curtis (Ice Cube), wanders those same streets, but instead of a book, he carries a beer can in a paper bag, a tried-and-true Hollywood sign of a good-for-nothing whose life hasn't turned out the way he planned. Curtis was once a high school football star with a bright future, and when he discovers his niece has a knack for playing quarterback, he takes it upon himself to cultivate her talent. It's obvious from the beginning that the kind of synchronized redemption Hollywood can't seem to get enough of awaits, but predictability doesn't have to be a bad thing, so long as it's painted in its own particular way. And Durst deftly avoids the traps of easy sentimentality and contrived jokiness by grabbing his two lead actors and holding on for dear life, knowing that the second their characters become caricatures is the second his movie becomes disposable. Lucky for him, then, that he has Palmer, who is capable of expressing deep disappointment, teenage petulance, and newfound confidence, often in the same scene. And Cube, who always struck me as being more interested in posturing than acting, is excellent as the doughy, rumpled ex-somebody who finds new life in helping to save somebody else's.
A note to readers: Bold and uncensored, The Austin Chronicle has been Austin's independent news source for almost 40 years, expressing the community's political and environmental concerns and supporting its active cultural scene. Now more than ever, we need your support to continue supplying Austin with independent, free press. If real news is important to you, please consider making a donation of $5, $10 or whatever you can afford, to help keep our journalism on stands.
READ MORE
More Ice Cube Films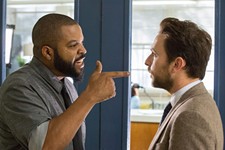 A comedy that revels in low-hanging fruit
Marjorie Baumgarten, Feb. 17, 2017
Cutting hair and cutting up
Steve Davis, April 22, 2016
More by Josh Rosenblatt
Swedish doc looks into the war between wheels
March 16, 2015
A dog, two single dads, and a 1,000-pound pig
March 15, 2015
KEYWORDS FOR THIS FILM
The Longshots, Fred Durst, Ice Cube, Keke Palmer, Tasha Smith, Jill Marie Jones, Dash Mihok, Matt Craven, Glenn Plummer, Garrett Morris
MORE IN THE ARCHIVES