Meet Bill
2008, R, 97 min. Directed by Bernie Goldmann, Melisa Wallack. Starring Aaron Eckhart, Jessica Alba, Elizabeth Banks, Logan Lerman, Holmes Osborne, Todd Louiso, Timothy Olyphant, Reed Diamond, Kristen Wiig.
Mid-40s, potbellied, aimless, spineless, clueless, cuckolded, living in a tent in his brother's back yard: On second thought, maybe you shouldn't meet Bill (Eckhart); he'll just bring you down. From this film's first line, it's clear our protagonist is in the throes of a midlife crisis: "What happened to my hair?" Bill asks himself, which, in the vernacular of the movies, is code for: "What happened to my life?" The answer is simple: He got married, he went to work for his father-in-law, he bought a house in the suburbs, he ate too many candy bars, and – little by little – he became nothing. Well, not nothing. More like too many things, and none of them of his choosing. To his wife he became a nuisance, a bore, an impediment to her extramarital activities, while to his father-in-law and boss (Osborne), he became a whipping boy, willing to do anything to keep his job at the family bank, pride be damned. And to everyone else, he pretty much became invisible. Eckhart plays Bill as a man in a state of suspended emotional animation, as if his soul stopped growing at the age of 15 while his body ballooned and succumbed to the pull of gravity. With a mop of unstylish hair, a closet full of drab suits, and an awkward, ingratiating smile, he's a man-child lost in the world of adult responsibility, given to manic, jittery outbursts in lieu of real reactions. No wonder he gets along so well with the nameless kid played by Lerman, a student from the local private high school Bill is coerced into mentoring. Of course, this being the movies, the kid (just the latest in a long line of preternaturally confident and clever blue-blazer-clad private-school teens cluttering up American independent movies these last 10 years) is far smarter and more tuned-in to the subtleties of the adult world than Bill is and so quickly becomes mentor to the older man instead: in life, in fashion, and, most importantly, in the fine art of getting one's wife back. Taking its cue from an uncharacteristically excitable Eckhart – in one scene he attacks his hidden cache of therapeutic candy bars with an enthusiasm most other actors reserve for scenes involving automatic weapons, tissues, or Kate Beckinsale – Meet Bill is a typical storyline given new life by an overabundance of antic energy. Its message may be old and tired – trust yourself and find your inner child – but it's expressed with a whole lot of enthusiasm.
A note to readers: Bold and uncensored, The Austin Chronicle has been Austin's independent news source for over 40 years, expressing the community's political and environmental concerns and supporting its active cultural scene. Now more than ever, we need your support to continue supplying Austin with independent, free press. If real news is important to you, please consider making a donation of $5, $10 or whatever you can afford, to help keep our journalism on stands.
READ MORE
More Aaron Eckhart Films
Roland Emmerich goes all guns blazing recreating the pivotal sea battle
Marc Savlov, Nov. 8, 2019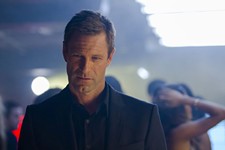 Demon possession thriller
Marc Savlov, Dec. 9, 2016
More by Josh Rosenblatt
A Krav Maga devotee on the curative power of punching a bag
Oct. 2, 2020
Swedish doc looks into the war between wheels
March 16, 2015
KEYWORDS FOR THIS FILM
Meet Bill, Bernie Goldmann, Melisa Wallack, Aaron Eckhart, Jessica Alba, Elizabeth Banks, Logan Lerman, Holmes Osborne, Todd Louiso, Timothy Olyphant, Reed Diamond, Kristen Wiig
MORE IN THE ARCHIVES