Married Life
2007, PG-13, 90 min. Directed by Ira Sachs. Starring Pierce Brosnan, Chris Cooper, Patricia Clarkson, Rachel McAdams, David Richmond-Peck, David Wenham, Timothy Webber.
Corruption, immorality, decadence, secrecy, loyalty, selfishness, selflessness, murder, love, sex, and indigestion are all swirling around one another in Married Life, Sachs' adaptation of the 1955 John Bingham crime novel, Five Roundabouts to Heaven. Cooper plays Harry Allen, whose love for his wife, Pat (Clarkson), is a testament to murky ethics and self-satisfied delusion. After starting an affair with a beautiful young widow named Katy (played by the miraculously doe-eyed McAdams), Harry becomes convinced that his wife won't survive without him, so he decides it would be more decent to murder her than subject her to the indignity and loneliness of divorce. Meanwhile, his best friend, the devilish Richard Langley (Brosnan), a cad and philanderer who accepts his own indecencies and moral flexibility as others might accept their height or hair color, develops eyes for Harry's mistress. Phrases like "Dear, sweet, gentle Katy" come dripping off his tongue like melted butter off a stack of pancakes, telling of the joys of a life spent exploring the grayer corners of human morality, so when Harry asks Richard to look in on Katy while he's away, any movie fan knows – as sure as the sun sets in the West (over Hollywood, mind you) – trouble is brewing. What's remarkable is that Richard knows this as well as we do, as if the betrayal of his friend is a matter of cosmic inevitability rather than personal choice. And it's this kind of wonderful, amoral resignation and gleeful responsibility-dodging that makes Married Life so deliciously different from other modern crime stories. Every character in the film is not only a sinner and a saint, but a sinner who fancies himself a saint and a saint who revels in his sin: Harry longs to be adored by an exciting, new woman but wants to honor the vows he took with his wife as well; Pat, meanwhile, has amorous secrets of her own that she doesn't think her husband deserves to suffer for. And then there's Katy, who lights up every room she enters with a glow of profound decency but remains unsure of where exactly her desires are taking her. With its 1950s decor and upbeat ending (clever camouflage all), Married Life probably won't show up on the radar of James Dobson's Focus on the Family anytime soon, but at the risk of supplying the enemy with ammunition, I have to say they might be giving a pass to one of the more ethically dubious films to come out of Hollywood in years. What, after all, could be more corrupting for impressionable children than a celebration of moral malleability and marital duplicity?
A note to readers: Bold and uncensored, The Austin Chronicle has been Austin's independent news source for over 40 years, expressing the community's political and environmental concerns and supporting its active cultural scene. Now more than ever, we need your support to continue supplying Austin with independent, free press. If real news is important to you, please consider making a donation of $5, $10 or whatever you can afford, to help keep our journalism on stands.
READ MORE
More Ira Sachs Films
Family drama is far less fun than a walk in the woods
Marc Savlov, Nov. 15, 2019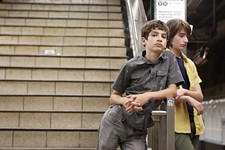 Friendships are tested in this bittersweet coming-of-age tale
Kimberley Jones, Sept. 2, 2016
More by Josh Rosenblatt
A Krav Maga devotee on the curative power of punching a bag
Oct. 2, 2020
Swedish doc looks into the war between wheels
March 16, 2015
KEYWORDS FOR THIS FILM
Married Life, Ira Sachs, Pierce Brosnan, Chris Cooper, Patricia Clarkson, Rachel McAdams, David Richmond-Peck, David Wenham, Timothy Webber
MORE IN THE ARCHIVES