Girls Rock!
2008, PG, 90 min. Directed by Arne Johnson, Shane King.
"How do you tune a taco?" wails a pint-sized camper named Amelia in Girls Rock!, a documentary look at Portland, Ore.'s Rock 'n' Roll Camp for Girls, a place where Sleater-Kinney counsels and the Gossip teaches you how to sing. It's a goofball, albeit totally awesome, non sequitur; just as impenetrable a question – one that consumes both the camp and the documentary – would be "How do you teach a teenage girl how to like herself?" Because girls rock camp isn't just a five-day immersion in rock & roll; it's also a crash course in confidence, self-respect, and self-defense (seriously – the girls get schooled in punching and kicking). Counselors and campers' moms tend to tear up when they talk about the lessons these girls are learning, lessons that go way beyond how to tune a bass, but this isn't exactly a "rah-rah" film. The camp was founded on the understanding – and for many, the direct experience – of the traumas of adolescence, and those traumas, while certainly leavened by camp, are still very much in evidence in these girls. In fact, for all its exclamatory cheeriness, Girls Rock! has some brutalizing moments, as when a smart, funny, engaging metal singer named Laura says, "I just accept that I hate myself, and I don't really think about it." Johnson and King – who I should (or should not?) point out are both men – absolutely succeed at crafting characters and arcs from these marvelous little girls, but they don't leave it at that. They insert something like miniature tutorials into the mix, which feature soundbite statistics ("One in 10 9-year-old girls has vomited to lose weight") and frenzied graphics that mash Pop Art animation with Fifties A/V films (a lazy-seeming choice, considering Fifties' notions of femininity have about as much relevance to Laura's generation as bustles had to mine). The aesthetic unfortunately recalls the look of the parody-MTV reality show in Reality Bites, and the information parlayed feels alternately obvious, hectoring, and arbitrary (to wit: The history of women in rock does not begin with Bikini Kill). But most frustrating in these off-putting interstitials are the mixed messages. Wanna celebrate women in rock? Don't depict them with cutesy cutout dolls. Wanna dramatize these real-life girls' struggle with positive self-image in a landscape saturated with tiny waists and torpedo tits – and do so without seeming exploitative or insensitive? Don't underlay their images beneath the likes of a busty model in a beer ad. Minuteswise, these interludes don't actually amount to much; wisely, the filmmakers keep the focus trained mostly on the kids (kids, by the way, so rocking they come up with lyrics like "Bush is such an idiot/He won't sign the Kyoto Treaty"). But they have a lingering effect. The filmmakers – who dedicate the film to their grandmothers and are no doubt fine, upstanding feminists – perhaps saw this tactic as a sort of spoonful of sugar to get down some rather devastating statistics. But in animating Britney Spears, for instance, and referring to her just as cartoonishly as a "diabolical threat," the effect is less sugar and more sour. (A benefit screening with live performances is scheduled for 3pm on Saturday.)
A note to readers: Bold and uncensored, The Austin Chronicle has been Austin's independent news source for almost 40 years, expressing the community's political and environmental concerns and supporting its active cultural scene. Now more than ever, we need your support to continue supplying Austin with independent, free press. If real news is important to you, please consider making a donation of $5, $10 or whatever you can afford, to help keep our journalism on stands.
READ MORE
More Films
Unerotic and unthrilling home invasion flick is seriously unsubtle
Richard Whittaker, Jan. 14, 2022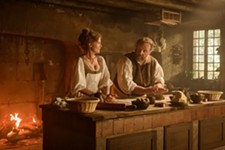 French historical cooking drama mixes class and cuisine
Trace Sauveur, Jan. 14, 2022
More by Kimberley Jones
International crime-fighting with Jessica Chastain's superspies
Jan. 14, 2022
Adapting to Omicron and everything else life throws our way
Jan. 14, 2022
KEYWORDS FOR THIS FILM
Girls Rock!, Arne Johnson, Shane King
MORE IN THE ARCHIVES