Starting Out in the Evening
2007, PG-13, 111 min. Directed by Andrew Wagner. Starring Frank Langella, Lauren Ambrose, Lili Taylor, Adrian Lester.
At first glance, Starting Out in the Evening appears to be one of those hoary May-December romances set in the rarified literary environs of New York's Upper West Side in which Woody Allen used to specialize. There's a hint of Allen's documentarian character Cliff Stern from Crimes and Misdemeanors, and, too, Starting Out in the Evening evokes the intellectually and philosophically rigorous (and vanishing) Manhattan that produced Arthur Miller, Lionel Trilling, and Alfred Kazan. This isn't Allen's Manhattan, however. Adapted from the Brian Morton's novel, Wagner and his director of photography, Harlan Bosmajian, do not rhapsodize the city (although Bosmajian does tend to bathe everything in a warm and burnished twilight glow) but instead mourn the loss of civility and artistic integrity that were once the bedrock of the city's great literary movements. Langella plays Leonard Schiller, an elderly novelist with four lauded but long-out-of-print books to his credit and waning hopes for a fifth, which is as yet unfinished. He also has a daughter (Taylor), whose chief concern – she's just turned 40 and the tick of her biological clock is deafening – is finding the right man with whom to have a baby (that man may or may not be ex-lover Casey [Lester]). Into this restless milieu comes young, vivacious graduate student Heather Wolfe (Ambrose), who, predictably, shakes up Leonard's world with her literary smarts and fiery passion for his all but forgotten body of work. She very clearly idolizes Leonard, and although he is at first put off by her request for a series of formal interviews, he crumples, in a very dignified way, to her dogged, seductive persistence. What follows is a quiet, contemplative meditation on the pained aging of literary lions and the ambitious youths who follow in their stead. It's also and most interestingly about the writing process itself, a difficult feat to pull off on film, which Wagner and co-screenwriter Fred Parnes manage to display with unvarnished realism. Langella has always been an undervalued actor – that wall-crawling turn in John Badham's 1979 Dracula may have had something to do with it – but here he turns in a performance of genuine brilliance, imbuing his character with a vast internalized life predicated on outward decorum and the inward life of a writer's mind. Leonard is a gentleman in every sense of the word, and though he's perplexed and then beguiled by the not entirely professional attentions of his newfound fan, he never fails to be anything less than polite, even while she's smearing honey on his lips. Wagner's film is an elegy of sorts for that once-mighty beast known as the New York Writer, a creature that now finds itself increasingly marginalized in a world in which readers are getting scarcer and shelf space for serious fiction is dwindling daily.
A note to readers: Bold and uncensored, The Austin Chronicle has been Austin's independent news source for almost 40 years, expressing the community's political and environmental concerns and supporting its active cultural scene. Now more than ever, we need your support to continue supplying Austin with independent, free press. If real news is important to you, please consider making a donation of $5, $10 or whatever you can afford, to help keep our journalism on stands.
READ MORE
More Frank Langella Films
The famous anti-protestor show trial recounted
Richard Whittaker, Oct. 9, 2020
Viggo Mortensen and family go off the grid
Steve Davis, July 22, 2016
More by Marc Savlov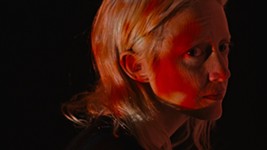 Identity melts in this psychotropic assassination brainblender
Oct. 2, 2020
Mangled Italian creature feature should be even shorter
Sept. 25, 2020
KEYWORDS FOR THIS FILM
Starting Out in the Evening, Andrew Wagner, Frank Langella, Lauren Ambrose, Lili Taylor, Adrian Lester
MORE IN THE ARCHIVES