First Sunday
2008, PG-13, 98 min. Directed by David E. Talbert. Starring Ice Cube, Tracy Morgan, Katt Williams, Loretta Devine, Chi McBride, Michael Beach, Keith David, Regina Hall, Malinda Williams.
It's become increasingly difficult to recall that Ice Cube was once upon a time one of the most incendiary and trenchant voices in hip-hop. Indeed, if you'd told me in 1992 that this particular voice n the hood would end up crossing over into mainstream pop culture via a series of increasingly bland, intermittently funny, but ultimately annoyingly pointless "message comedies" while also defanging his detractors and, to a large degree, his street cred in the process, I'd have laughed in your face and beat you on the head with a vinyl copy of the Compton-based rapper's classic The Predator LP until you regained some measure of sanity. Obviously, in hindsight, the joke was on me. Since 1995, when the first volley in Cube's comedy career was fired (via F. Gary Gray's dopey but fun Friday), the onetime leader of Da Lench Mob has been steadily amassing a résumé of roles and producer credits for some less-than-stellar family comedies (I Got the Hook Up, Barbershop, Are We There Yet?). It's nearly as ludicrous and unforeseeable a career trajectory as if "Cop Killer"-era Ice T had caught a second wind as an actor playing a rough-justice copper in a television show called, I don't know, Law & Order. Nevertheless, Ice Cube is now Public Enemy Number Fun, although First Sunday (not to be confused with the first of the Friday franchise, or maybe it is) is only fun if you're in dire need of a modernist urban take on the strain of comedy Bud Abbott and Lou Costello used to practice, which, let's be honest, wasn't that funny to begin with. Cube plays Durell, an air-conditioning-repair whiz whose best pal, the criminally stupid LeeJohn (30 Rock's Morgan) convinces him to take part in a scheme to rob the local church in order to score the cash necessary to A) save LeeJohn from a bloodthirsty posse of Jamaican drug thugs and B) pay the lease on a salon so that Durell's ex (Hall) doesn't move from Baltimore (where First Sunday is set) to Atlanta with their son in tow. The robbery, needless to say, goes awry with robbers, preachers, and parishioners getting plenty of "values" dialogue but almost no laughs. Even Morgan, a reliably gagworthy actor with a genuine talent for finding the surreal in the mundane, comes up short. Tyler Perry has already been here and done that to such a degree that this particular cinematic field should now be plowed under and salted so that nothing might grow thereupon forevermore. Amen.
A note to readers: Bold and uncensored, The Austin Chronicle has been Austin's independent news source for almost 40 years, expressing the community's political and environmental concerns and supporting its active cultural scene. Now more than ever, we need your support to continue supplying Austin with independent, free press. If real news is important to you, please consider making a donation of $5, $10 or whatever you can afford, to help keep our journalism on stands.
READ MORE
More David E. Talbert Films
Home for the holidays (again)
Marjorie Baumgarten, Nov. 18, 2016
Paul Patton stars in this rom-com about a desperate-to-wed flight attendant that never achieves liftoff.
Marjorie Baumgarten, Sept. 27, 2013
More by Marc Savlov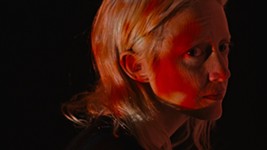 Identity melts in this psychotropic assassination brainblender
Oct. 2, 2020
Mangled Italian creature feature should be even shorter
Sept. 25, 2020
KEYWORDS FOR THIS FILM
First Sunday, David E. Talbert, Ice Cube, Tracy Morgan, Katt Williams, Loretta Devine, Chi McBride, Michael Beach, Keith David, Regina Hall, Malinda Williams
MORE IN THE ARCHIVES