Wristcutters: A Love Story
2007, R, 91 min. Directed by Goran Dukic. Starring Patrick Fugit, Shannyn Sossamon, Shea Whigham, Tom Waits, Will Arnett, Leslie Bibb, John Hawkes, Mikal P. Lazarev.
One thing you have to say for the creators of Wristcutters: A Love Story, the new film adapted from a short story by Israeli writer Etgar Keret: They know how to paint a miserable picture of the afterlife. And I'm not talking about raging, unquenchable pit-fires lorded over by ornery demons or cloud-filled garden parties populated by do-gooders in white robes doing good to a harp soundtrack, either. No, this is much, much worse. Witness the sad case of Zia (Fugit), who slits his wrists one afternoon looking for some relief from the pain of losing his girlfriend, only to realize that for him, death means an eternity spent selling pizza in a small desert town, an anal-retentive roommate in a tiny hovel, nights spent in dive bars trying unsuccessfully to pick up women, and – wait for it – no relief from the pain of having lost his girlfriend. In other words, friends, your afterlife is going to be exactly like your current life, only it'll last much longer and Jake Busey will make a cameo appearance. Feel free to start screaming now. The wisp-thin plot of Wristcutters follows Zia on his trip through suicide purgatory looking for the one that got away. He's joined on his journey by two fellow miserables: Eugene, a crazy Russian with a handlebar moustache (Whigham, doing his best Steve Zahn doing his best crazy Russian), for whom suicide is a family tradition, something passed on from father to son like a gold pocket-watch; and Mikal (Sossamon), an attractive twentysomething hipster who died after an overdose of heroin and is searching for a loophole in her contract with whoever's in charge of life after death in order to get back to the world of the living (or at least the world of the accidentally dead, which, I'm guessing, has cable). Wristcutters is just the kind of clever, deadpan, half-sentimental/half-ironic flight of comic fancy that was everywhere during the independent-movie revolution of the mid-1990s (it even co-stars Tom Waits), and it's hard to find fault with its nostalgic sense of good-natured absurdity. But absurdity alone won't get the train into the depot, and no amount of quirky characters floating in their chairs or fish changing colors at random can make up for the film's lack of real humor or meaning. Which is to say, if you're going to make a comedy about suicide, you'd better make sure the jokes land. There are people out there who could use a laugh.
A note to readers: Bold and uncensored, The Austin Chronicle has been Austin's independent news source for over 40 years, expressing the community's political and environmental concerns and supporting its active cultural scene. Now more than ever, we need your support to continue supplying Austin with independent, free press. If real news is important to you, please consider making a donation of $5, $10 or whatever you can afford, to help keep our journalism on stands.
READ MORE
More Patrick Fugit Films
Modern vampire horror crumbles to reveal a tragedy of codependence
Richard Whittaker, June 25, 2021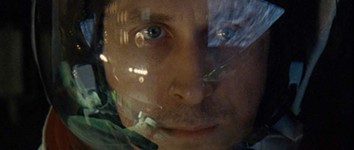 Gosling and Chazelle's moon man biopic soars
Richard Whittaker, Oct. 12, 2018
More by Josh Rosenblatt
A Krav Maga devotee on the curative power of punching a bag
Oct. 2, 2020
Swedish doc looks into the war between wheels
March 16, 2015
KEYWORDS FOR THIS FILM
Wristcutters: A Love Story, Goran Dukic, Patrick Fugit, Shannyn Sossamon, Shea Whigham, Tom Waits, Will Arnett, Leslie Bibb, John Hawkes, Mikal P. Lazarev
MORE IN THE ARCHIVES