Lust, Caution
2007, NC-17, 157 min. Directed by Ang Lee. Starring Tang Wei, Tony Leung, Joan Chen, Wang Leehom.
I'll be honest: After hearing that Lee's newest had received an NC-17 rating from the MPAA, I was instantly, intensely curious about the film and, more to the point, just how much wartime ooh-la-la it might contain. This is, after all, the man who gave us not only The Ice Storm and Crouching Tiger, Hidden Dragon, but also Hulk, which you'll recall featured a giant, digitally realized Eric Bana with nary a tubesnake in his boogie (although there was something disturbingly erotic about that giant fucking poodle). What could Lee be up to here, and more important, might he have crafted a subversively erotic masterpiece on a par with Last Tango in Paris or could it be more along the lines of Eat Out Man Woman? Don't laugh, you've been wondering the same as I. As it turns out, Lust, Caution does indeed contain a couple of the most erotically turbocharged scenes of lovemaking ever done by a filmmaker not based in the San Fernando Valley, but the rest of the film, which clocks in at an overlong 157 minutes, is a snooze of historically epic proportions. It is unfailingly beautiful, thanks to cinematographer Rodrigo Prieto (Alejandro Amenábar's usual director of photography who also shot Lee's Brokeback Mountain), but oddly unaffecting. For all its patriotic, love-during-wartime fervor, Lee's film only ever really takes off when stars Leung and newcomer Wei take off their clothes. This may be due in part to my own borderline ignorance of the political nuances that make up the world of Lust, Caution, which is set in Shanghai and Hong Kong during the brutal Japanese occupation of World War II, but then again, it's the director's responsibility to give his audience enough period backstory to allow them to discern the context without having to run home and Wiki down. At any rate, Lust, Caution follows Wei's luminous Wong Chia-Chi through her university years as she joins an anti-Japanese guerrilla drama club (led by Leehom, looking as though he stepped out of an Indo-Chinese version of Casablanca). The group eventually picks her to seduce and, if possible, kill the high-ranking collaborationist-cum-"interrogator" Mr. Yee (Leung). She promptly and painfully loses her virginity to a fellow guerrilla glee clubber, the better to master her erotic skills, but she's no Mata Hari: Her brutal, psychosexual grapplings with the S&M-dabbling Mr. Yee sicken her to the core, even as she begins to topple headlong into love with the devil. Lust, Caution is a major film, but it feels like a minor work in Lee's canon. It's not for lack of trying, though. Lee and screenwriter James Schamus pose the question, "How deep into artifice can one delve before the ruse becomes the reality and the heart overtakes the head?" and then answer it in a way that feels resoundingly contemporary. And, too, Leung and Wei are incendiary enough to scorch the sheets clean off the bed, but passionately at odds with the rather chilly film around them. It's one of the most cautious readings of lust ever put to film.
A note to readers: Bold and uncensored, The Austin Chronicle has been Austin's independent news source for almost 40 years, expressing the community's political and environmental concerns and supporting its active cultural scene. Now more than ever, we need your support to continue supplying Austin with independent, free press. If real news is important to you, please consider making a donation of $5, $10 or whatever you can afford, to help keep our journalism on stands.
READ MORE
More Ang Lee Films
It's Will Smith vs. a younger Will Smith
Matthew Monagle, Oct. 11, 2019
A soldier returns home in Ang Lee's war movie
Marjorie Baumgarten, Nov. 23, 2016
More by Marc Savlov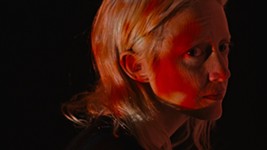 Identity melts in this psychotropic assassination brainblender
Oct. 2, 2020
Mangled Italian creature feature should be even shorter
Sept. 25, 2020
KEYWORDS FOR THIS FILM
Lust, Caution, Ang Lee, Tang Wei, Tony Leung, Joan Chen, Wang Leehom
MORE IN THE ARCHIVES