The 11th Hour
2007, PG, 95 min. Directed by Nadia Conners, Leila Conners Petersen. Narrated by Leonardo DiCaprio.
Not long ago, I overheard a disquietingly resonant analogy used to sum up the ludicrousness of arguments seeking to dismiss or obfuscate the factuality of global climate change. It went like this: "If the babysitter you hired to watch over your children came with nine sterling recommendations, but at the last minute you received a phone call from a stranger who told you the sitter was a pedophile, wouldn't you, at the very least, cancel the services of this suddenly questionable sitter until you could discover for yourself the efficacy of the charge? If there was even one chance in 10 that this person might do your child harm, is it not your sacred and legal duty as guardian to discover beyond a shadow of a doubt the truth of the accusation and to disallow that sitter from your home until such time?" The documentary The 11th Hour, narrated by Leonardo DiCaprio and featuring a cross section of experts from both the scientific community and elsewhere, makes a similar case regarding the injurious worldwide effects of global warming: If there's even one chance in a million that irreversible damage to the biosphere is occurring, shouldn't we lend it immediate due credence? Of course, as the film notes, in general the only people still denying climate change are obvious crackpots and oil-company shills. The proof is in, and the scientific community is and has been in perfect accord on the subject for years. Only a madman continues to deny the obvious in the face of overwhelming evidence to the contrary. Regrettably, as The 11th Hour also states, mankind never has been accused of being too sane for its own good. And while it's a well-constructed doc, full of relevant information and geared toward those people who still might be fence-sitters on the subject, there's something missing from The 11th Hour's lengthy procession of talking heads: a sense of maddened outrage. Most of the speakers here seem inexplicably calm about the crisis, whether it's environmentalist David Suzuki or Mikhail Gorbachev, both of whom weigh in on climate change with studied aplomb. Only the emotion-neutral electronic "voice" of Stephen Hawking and the wry observations of former CIA head James Woolsey cut through the increasingly hopeful platitudes on sustainability and the importance of individual actions with something approaching proper outrage. That's due in large part to the filmmakers' obvious decision to sidestep the feelings of futility and nihilism engendered by the sheer gargantuan scope of the problem. It's difficult to fault their otherwise excellent documentary for that, but still, a little outrage (or a even a lot) rarely denatures a necessary revolution in thought, and as often as not, a louder argument incites a more sweeping change.
A note to readers: Bold and uncensored, The Austin Chronicle has been Austin's independent news source for almost 40 years, expressing the community's political and environmental concerns and supporting its active cultural scene. Now more than ever, we need your support to continue supplying Austin with independent, free press. If real news is important to you, please consider making a donation of $5, $10 or whatever you can afford, to help keep our journalism on stands.
READ MORE
More Films
Charming animated adventure has a kid-friendly look at loss, with adorable space sidekicks!
Richard Whittaker, Oct. 16, 2020
Eric Roberts saves souls, unlikely as that sounds
Oct. 16, 2020
More by Marc Savlov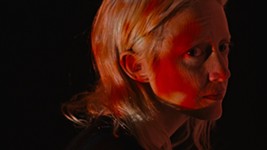 Identity melts in this psychotropic assassination brainblender
Oct. 2, 2020
Mangled Italian creature feature should be even shorter
Sept. 25, 2020
KEYWORDS FOR THIS FILM
The 11th Hour, Nadia Conners, Leila Conners Petersen
MORE IN THE ARCHIVES