Employee of the Month
2006, PG-13, 103 min. Directed by Greg Coolidge. Starring Dane Cook, Jessica Simpson, Dax Shepard, Efren Ramirez, Tim Bagley, Andy Dick, Harland Williams, Brian George.
Harold & Kumar Go to White Castle proved that the stoner/slacker comedy genre can generate films of sublime humor, if only once every 10 years or so. Employee of the Month mines similar comic pyrite but moves the setting to a gigantic, Costco-like retail outlet and replaces actors with what appear to be cyborgs. Seriously: Have you studied Cook's horrifically unsettling smile lately? It's like William Castle's Mr. Sardonicus crossbred with Conrad Veidt in The Man Who Laughs. Talk about King Leer – icky! Here, Cook plays Zack, a lowly box boy who aspires to topple smarmy No. 1 cashier Vince (Shepard) from his position of (relative) power and thereby win the hand, or at least the labia, of new cashier hottie Amy (Simpson). (Lucky for me, Simpson also supports my theory that Yul Brynner's false-faced gunslinger of Westworld was no special effect … and has been breeding ever since, probably in the L.A. sewers with the decimated remains of director Coolidge, who previously wrote – I kid you not – a film called Sorority Boys.) Co-writers Don Calame and Chris Conroy utterly fail to notice the wealth of black-comedy gold inherent in the very notion of sprawling supercenters and instead go for the dumbest gags they can find, including but not limited to celebrity casualty Andy Dick as a blind eye doctor and enough fat/fart/gay jokes to outfit the next four National Lampoon vacations. Speaking of which, Employee of the Month never even rises that high and certainly nowhere near the stony genius of Harold & Kumar or even Dude, Where's My Car?. On the other hand, Cook's creepy smirk is downright hypnotic. You keep staring at it, seeking to find the gears and flywheels beneath the flesh, but the harder you look, the less you see. It's an unnerving expression, devoid of anything other than reptile calculation and something approaching disdain. It'd look great on the wall of the MoMA, or even the Smithsonian, but in a movie? Not so good.
A note to readers: Bold and uncensored, The Austin Chronicle has been Austin's independent news source for almost 40 years, expressing the community's political and environmental concerns and supporting its active cultural scene. Now more than ever, we need your support to continue supplying Austin with independent, free press. If real news is important to you, please consider making a donation of $5, $10 or whatever you can afford, to help keep our journalism on stands.
READ MORE
More Greg Coolidge Films
Small-town hijinks over a football game rescheduled by 20 years
Nov. 15, 2019
More by Marc Savlov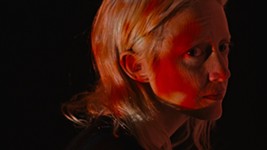 Identity melts in this psychotropic assassination brainblender
Oct. 2, 2020
Mangled Italian creature feature should be even shorter
Sept. 25, 2020
KEYWORDS FOR THIS FILM
Employee of the Month, Greg Coolidge, Dane Cook, Jessica Simpson, Dax Shepard, Efren Ramirez, Tim Bagley, Andy Dick, Harland Williams, Brian George
MORE IN THE ARCHIVES