Brothers of the Head
2006, R, 90 min. Directed by Keith Fulton, Louis Pepe. Starring Harry Treadaway, Luke Treadaway, Bryan Dick, Sean Harris, Howard Attfield, Ken Russell, Tom Bower, Tania Emery, Diana Kent, Jonathan Pryce.
An astonishing twinning of wild imagination and drop-dead realism, Brothers of the Head is simply the most poignant and exciting documentary about sibling rivalry, revelry, and reversal of fortunes ever made. And so it pains me to no end to have to admit that, damn the luck, that last sentence contains a lie: This is not a documentary, although you'd have to put me in a small, enclosed space with dangerously unhinged Britpop sibs Noel and Liam Gallagher, a gallon of Scotch, and a deuce of rusty straight razors to force me to call it by its true nature, the hybrid and hereby utterly impotent moniker "mockumentary." There's precious little mockery in this tale of Tom and Barry Howe (brothers Harry and Luke Treadway), conjoined twins who, almost as an afterthought to their daily lives, end up fronting a Seventies glam-punk outfit known as the Bang Bang. With the withdrawn, shoe-gazing Tom flailing away at his guitar while his more emotionally volatile brother Barry spits literary invectives into the microphone, his right arm slung by necessity over Tom's shoulders, their act is like a David Lynch opera with a libretto by Iggy Pop. Never much good at being twins, the Howes, once in the limelight, excel at all things rock & roll, including, but not limited to, sex, drugs, and fisticuffs. It all ends badly (but not as badly as some Oasis albums I could mention). Directors Fulton and Pepe previously helmed Lost in La Mancha, a real documentary – about Terry Gilliam's disastrous efforts to film an ambitious version of Don Quixote – that felt ficticious. Brothers of the Head is the exact opposite, and it's so judicious and cunning in employing (fake) footage culled from a never-completed previous documentary on the Bang Bang, as well as clips from Ken Russell's predictably outrageous (and fake) biopic, Two-Way Romeo, that it ends up seeming more real and more artistically, morally, and spiritually honest than any dozen bedrock documentary films you'd care to name. And as if that weren't praise enough, the Bang Bang turns out to be the most viscerally, musically exciting glam-punk duo Malcolm McLaren never fucked over. Would that he (and we) had had the chance.
A note to readers: Bold and uncensored, The Austin Chronicle has been Austin's independent news source for almost 40 years, expressing the community's political and environmental concerns and supporting its active cultural scene. Now more than ever, we need your support to continue supplying Austin with independent, free press. If real news is important to you, please consider making a donation of $5, $10 or whatever you can afford, to help keep our journalism on stands.
READ MORE
More Keith Fulton Films
What happens to a dream deferred? Well, sometimes it goes into turnaround, and the six lousy days of footage you shot of it wind up ...
Kimberley Jones, March 21, 2003
More by Marc Savlov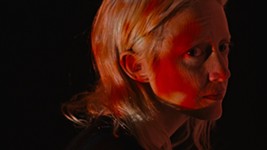 Identity melts in this psychotropic assassination brainblender
Oct. 2, 2020
Mangled Italian creature feature should be even shorter
Sept. 25, 2020
KEYWORDS FOR THIS FILM
Brothers of the Head, Keith Fulton, Louis Pepe, Harry Treadaway, Luke Treadaway, Bryan Dick, Sean Harris, Howard Attfield, Ken Russell, Tom Bower, Tania Emery, Diana Kent, Jonathan Pryce
MORE IN THE ARCHIVES