Nacho Libre
2006, PG, 100 min. Directed by Jared Hess. Starring Jack Black, Héctor Jiménez, Ana de la Reguera, Moises Arias, Rene Campero, Brett Chan, Cesar Gonzalez.
Infinitely more entertaining than anything the WWE has done recently, this sophomore outing from Napoleon Dynamite director Hess is full of cheesy goodness, but it's Velveeta, compadre, and it slides around and around and finally right through you like a greased luchador grappling within a sweat-slicked squared-circle of muy machismo gone goofy. As a comedy, it's hit and miss; it works better and feels more fully developed when Hess has the corpulent Black tug on your heartstrings. And he does, too: Nacho Libre's greatest asset isn't the occasional burst of outré yuks from Black, who's been honing his very specific comic niche since he and Kyle Gass first popped up as the faux-rocker duo Tenacious D back in 1999, but the thoroughly unironic dollops of good, old-fashioned heart and soul. Plotwise, this is straight out of the Mickey Rooney/Judy Garland "Let's Put on a Show and Save the Orphanage" playbook. Black plays Nacho, a young orphan obsessed with the exploits of those omnipresent masked Mexican wrestlers – such as El Santo – who grows up to become a man with similarly muscular desires. As the culinarily challenged cook of his backwater Oaxacan monastery, he prepares the monks' daily dose of gruel with a stoic (if paunchy) mien, until fate intervenes not once but twice. It's the arrival of the saintly nun, Sister Encarnación (Reguera, whose resemblence to both an antique china doll and Penélope Cruz is bewitchingly bizarre), that first sparks a desire to buck the status quo in this man who would be King of the Ring. Lit from above like some Renaissance angel as envisioned by Guillermo del Toro, her heavenly radiance empowers Nacho to create his own thrift-store version of a wrestling outfit and take to the ring in hopes of funding a better breakfast for the brethren. Pummeled into submission, he's not a very good fighter, but after a chance meeting with the feral, vocally secular Los Olvidadan Esqueleto (the skeletal Jiménez, who is simply the best thing this film has going for it), the two join forces to – more or less – save the day. Hess uses his Mexican locations to great effect and the teaming of Black and Jiménez is inspired, but rarely does Nacho Libre have you rolling in the aisles – it's content to keep you chuckling along and basking in Black's ability to so skillfully manipulate his eyebrows you might think he'd been temporarily possessed by the shade of John Belushi (or, possibly, Sam Donaldson). As in Napoleon Dynamite, there are catchphrases galore, but precious few that stick with you past the theatre parking lot. It's a strange hybrid, Nacho Libre, part genuine homage to the culturally unique world of Mexican wrestling and part barrage of feel-good, cornball antics. It never quite jells into what you might have hoped for (i.e., a "laff-riot"), but in another light becomes something wholly unexpected: the most soulful and silly Mexican wrestling melodrama of the year.
A note to readers: Bold and uncensored, The Austin Chronicle has been Austin's independent news source for almost 40 years, expressing the community's political and environmental concerns and supporting its active cultural scene. Now more than ever, we need your support to continue supplying Austin with independent, free press. If real news is important to you, please consider making a donation of $5, $10 or whatever you can afford, to help keep our journalism on stands.
READ MORE
More Jared Hess Films
Heist comedy stars Zach Galifianakis, Owen Wilson, and Kristin Wiig
Steve Davis, Oct. 7, 2016
Fourth comedy feature from the pair who made Napoleon Dynamite
Marjorie Baumgarten, Dec. 11, 2015
More by Marc Savlov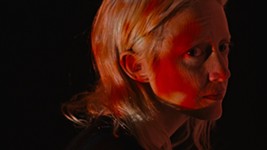 Identity melts in this psychotropic assassination brainblender
Oct. 2, 2020
Mangled Italian creature feature should be even shorter
Sept. 25, 2020
KEYWORDS FOR THIS FILM
Nacho Libre, Jared Hess, Jack Black, Héctor Jiménez, Ana de la Reguera, Moises Arias, Rene Campero, Brett Chan, Cesar Gonzalez
MORE IN THE ARCHIVES