One Perfect Day
2004, NR, 106 min. Directed by Paul Currie. Starring Dan Spielman, Leeanna Walsman, Abbie Cornish, Nathan Phillips, Andrew Howard, Kerry Armstrong.
Apparently in Melbourne it's still 1991. And Manchester, UK. That's the vibe on display, at any rate, throughout this earnest, soulful, and jarringly melodramatic rave-culture love story, which plays like a greatest-hits package of a Down Under version of the old ABC Afterschool Specials had they been directed by someone less talented than Human Traffic's Justin Kerrigan. That particular new-school (albeit now old-school) raver's hit-parade movie was an occasionally engrossing, often audacious peek inside the warping lives of young UK twentysomethings as they grooved their way between shiftless and idle, from club to drug and work to play and fast-forward through all else. It was pop-culture social commentary masquerading as a comic-book lifestyle guide, but even at its dopiest moments, Kerrigan's film (not unlike Greg Harrison's similarly themed stateside-lensed Groove) managed to be what every rave and every raver ever aspired to: fun. One Perfect Day, on the other hand, is a morning-after, feel-bad bummer, akin to having Einstürzende Neubauten remix Josh Wink's "Higher State of Consciousness" and then listening to it in the rain while Death Cab for Cutie drives by and spits on you. Not even my idea of a good time. Still, chalk one up for the triumph of emotion over emo, if you want. Moody, soundscaping opera student Tommy (Spielman) is attending the Royal Academy of Music in London (where he gets to hear the director of the New Berlin Opera whine things like: "Opera is dead … I keep searching, searching for someone who has the courage to create something that speaks to the human condition of our time, someone who can bring opera back to the people." Yikes) when he gets word that back home in Melbourne his sister Emma (Cornish) has died of a drug overdose, on her birthday, just hours after he hung up on a pleading phone call from her. Home for the funeral (which, against all odds, is nicely set to a spare, baleful track by techno-hipsters Lamb), Tommy reunites with girlfriend Alysse (Walsman), only to discover that not only was she with his sister the night she died but also may be sharing her bed with the local dance-club pillboxer. Communication lines thus jammed, the stage is set for some serious youth-angst melodrama (for once of late, the collusion of melody and drama is bang-on). Director Currie has a certain visual flair that lends itself to the frequent scenes of club-hopping debauch, but with a story that feels ripped from the pages of whatever they call Tiger Beat on the bottom of the world it's all quite annoying, although, that said, no one can say Currie's film hasn't got its beat in the right place.
A note to readers: Bold and uncensored, The Austin Chronicle has been Austin's independent news source for almost 40 years, expressing the community's political and environmental concerns and supporting its active cultural scene. Now more than ever, we need your support to continue supplying Austin with independent, free press. If real news is important to you, please consider making a donation of $5, $10 or whatever you can afford, to help keep our journalism on stands.
READ MORE
More by Marc Savlov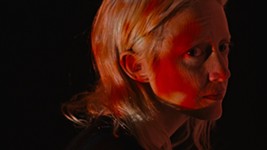 Identity melts in this psychotropic assassination brainblender
Oct. 2, 2020
Mangled Italian creature feature should be even shorter
Sept. 25, 2020
KEYWORDS FOR THIS FILM
One Perfect Day, Paul Currie, Dan Spielman, Leeanna Walsman, Abbie Cornish, Nathan Phillips, Andrew Howard, Kerry Armstrong
MORE IN THE ARCHIVES