Gay Sex in the 70s
2005, NR, 72 min. Directed by Joseph F. Lovett.
A documentary with a decidedly prurient slant, Gay Sex in the 70s isn't for everyone – it's definitely aimed toward the older gay crowd who somehow lived through the experience and the younger one who might wistfully wish that it had. In these sexually tamer times, the licentiousness explicitly recounted here is a little shocking, regardless of your sexual orientation. Put in perspective, however, the era's no-holds-barred approach to sexuality isn't really all that surprising, given that American gay men before then had little opportunity to express themselves sexually without fear of incarceration or even death. Little more than a series of interviews of those who survived those times, interspersed with titillating soft-core clips from the day's porn archives, Gay Sex in the 70s attempts to provide a sympathetic perspective on the post-Stonewall sexual liberation years in New York City, years in which gay men engaged in anonymous sex on the piers and drugged till dawn at Studio 54. Of course, this behavior had its consequences – a heretofore unknown virus derailed the sexual revolution for both gay and straight alike – and this documentary dutifully notes how things forever changed in the early Eighties. There is, however, little socio-political insight into the Dionysian revolution depicted here; the film seems to serve more as a nostalgia piece than anything. Some of the rare footage in the documentary is eye-opening (in more ways than one) and provides a view into a way of life that all the talking heads in the world can't articulate. A novelty piece at best, Gay Sex in the 70s gives you but a glimpse into a world that seemed to exist a long, long time ago.
A note to readers: Bold and uncensored, The Austin Chronicle has been Austin's independent news source for over 40 years, expressing the community's political and environmental concerns and supporting its active cultural scene. Now more than ever, we need your support to continue supplying Austin with independent, free press. If real news is important to you, please consider making a donation of $5, $10 or whatever you can afford, to help keep our journalism on stands.
READ MORE
More Films
Spanish faith-based horror commits the sin of predictability
Jenny Nulf, Dec. 1, 2023
Restoring the reputation of the sexologist and researcher
Alejandra Martinez, Dec. 1, 2023
More by Steve Davis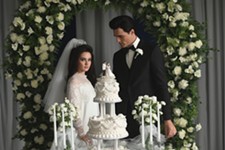 Measured journey behind closed doors of rock & roll's most famous marriage
Nov. 3, 2023
Ryan and Duchovny ponder the road not taken in magical rom-com
Nov. 3, 2023
KEYWORDS FOR THIS FILM
Gay Sex in the 70s, Joseph F. Lovett
MORE IN THE ARCHIVES