Just Friends
2005, PG-13, 96 min. Directed by Roger Kumble. Starring Ryan Reynolds, Amy Smart, Anna Faris, Chris Klein, Christopher Marquette, Julie Hagerty.
Funny, I never noticed how scarce sometimes-comic actor Julie Hagerty had become of late, nor how much I missed her giddy, wild-eyed (albeit toned down for this particular film) emotionalism, which, you will likely recall, was one of the few performance aspects that was able to ground – if that's the word – her first film, 1980's Airplane! In the 25 years since then, Hagerty took a stab at Woody Allen-lite, held her own against the not-inconsiderable powers of Richard Dreyfuss and Bill Murray in Frank Oz's underrated What About Bob?, and then dropped off the comic map with only occasional forays into drama and, inexplicably, the Tom Green vehicle Freddy Got Fingered. Egads. I'd love to tell you that Hagerty single-handedly rescues Just Friends from being a tepid romantic comedy with a side order of vitriol (courtesy of National Lampoon's Van Wilder smarm-master Reynolds) that it so blatantly is, but then I'd never be able to watch Storytelling again with a straight face. Hagerty does what she does well, however. In this case, playing the New Jersey mom of Reynold's preening, conflicted L.A. record executive, in varying shades of maternal discombobulation. She copes quite nicely with her offspring's unexpected holiday drop-in, but none of it has more than a slight simulacrum of the manic but medicated comic grace of her earlier work. That's okay: It's not Hagerty's fault. The script, by Adam "Tex" Vegas, ricochets between over-earnest romantic comedy staples and a noticeable lack of any consistent tone for Reynolds' character, Chris Brander, who to his horror finds himself stranded in the home town he fled a decade before. Back then he was a strapping 275-plus high school nice guy, who was lovesick for local cheerleader Jamie (Smart) but woefully cast in the role of Best Friend 4-Ever. Just Friends' prologue, during which we are witness to Chris' mounting frustration at his social lot and the ensuing meltdown that pushes him as far away from Jersey as possible, presumably for good, is a solid piece of work, tightroping between some pretty decent gags (Reynolds in a fat suit) and the requisite pathos. With all the varsity yahoos clogging this Jersey wasteland and making life hell for the one guy who seems to have his soul on straight, it's no wonder big Chris hits the road, Jack. The fact that he's returned a svelte, chiseled, and blindingly veneered exact version of the sleazoids who made his previous incarnation so perversely miserable is the moral of the story. When he locks eyes with his unrequited love Jamie across a crowded bar, it's clear he's battling not just local rivals but the cold-blooded komodo he has allowed himself to become. The film's romantic resolution is never in any doubt, although Reynolds and Smart play off each other like pinballs bathed in nitroglycerin. There's both too much recriminatory spieling and not enough good, old-fashioned canoodling going on to make you believe in their mutual destiny for more than a passing moment. Kumble's direction is diffidently garish – he makes Chevy Chase's Vacation debacles look like high art – and the film feels just a few degrees left of sanity. That's a state Hagerty traversed with ease once upon a time, but even she can't salvage this yuletide fiasco barring an assist from Lloyd Bridges, the Ghost of Comedies Past.
A note to readers: Bold and uncensored, The Austin Chronicle has been Austin's independent news source for almost 40 years, expressing the community's political and environmental concerns and supporting its active cultural scene. Now more than ever, we need your support to continue supplying Austin with independent, free press. If real news is important to you, please consider making a donation of $5, $10 or whatever you can afford, to help keep our journalism on stands.
READ MORE
More Roger Kumble Films
The Harry Styles stalker fan fic series terrifyingly continues
Oct. 23, 2020
In this kids' film, creatures of the forest rebel when a housing development threatens their forest home.
Marjorie Baumgarten, April 30, 2010
More by Marc Savlov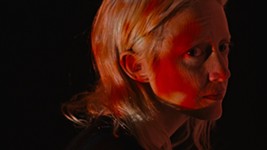 Identity melts in this psychotropic assassination brainblender
Oct. 2, 2020
Mangled Italian creature feature should be even shorter
Sept. 25, 2020
KEYWORDS FOR THIS FILM
Just Friends, Roger Kumble, Ryan Reynolds, Amy Smart, Anna Faris, Chris Klein, Christopher Marquette, Julie Hagerty
MORE IN THE ARCHIVES