Testosterone
2003, NR, 105 min. Directed by David Moreton. Starring David Sutcliffe, Antonio Sabato Jr., Sonia Braga, Celina Font, Leonardo Brzezicki, Dario Dukah.
David Sutcliffe plays Dean Seagrave, a graphic artist whose world is turned inside out when his boyfriend, Pablo (Sabato Jr.), steps out for a cigarette and never returns. Part colorful noir, part scatterbrained comedy, Testosterone envisions the severed tether of a presumably functional relationship through the skewed eyes of Dean, who's so determined to discover what happened and why that he abandons his home and work and jets off to his ex-flame's home in Buenos Aires in pursuit of his true love. That Pablo didn't seem to view things the same way matters not at all to the increasingly whiny Dean, who instead commences to make very public scenes when Pablo's icy mother (Braga) refuses to clue him in. Early in the film, there's a hint of scandal, or at least the notion that something with a tad more gravitas is occurring, but like its genially annoying protagonist, Moreton's film feels woefully shallow, more of an excuse to ogle handsome guys and the admittedly eye-catching scenic splendor of Argentina than embark on any meaningful course of action. Which isn't so bad in the long run, although by the time Dean goes out and buys a machete and an ice cooler with the aim of getting medieval on someone's ass, you'll probably be wondering if director Moreton was running out of ideas for the third act or if the whole thing's just some weird joke. I'm still not entirely sure. Despite the movie's lack of anything resembling a narrative center, Testosterone isn't an entire waste of film stock – Sutcliffe, Sabato Jr., and especially the great Braga all act up a storm, with the former Dona Flor appearing as though she just stepped out of the combined back catalogs of John Waters and Pedro Almodóvar: Woman on the Verge of a Cry-Baby. There's also a subplot about the mysterious cafe owner who lives across the street from Pablo's upscale digs (Font) and her brother (Brzezicki), who may or may not have some shadowy ties to Pablo but is most definitely interested in bedding the wayward Yank. I haven't a clue what Moreton was trying to say, if anything, about the state of love and loss these days, other than that it might be refreshing, in the wake of a breakup, to head South and "drop trou" every time somebody gives you half a chance and then, once sated, go nuts and kill someone. Wiser words have been dispensed on the subject, but none have seemed so insanely sane, so perhaps Mr. Moreton is on to something here.
A note to readers: Bold and uncensored, The Austin Chronicle has been Austin's independent news source for almost 40 years, expressing the community's political and environmental concerns and supporting its active cultural scene. Now more than ever, we need your support to continue supplying Austin with independent, free press. If real news is important to you, please consider making a donation of $5, $10 or whatever you can afford, to help keep our journalism on stands.
READ MORE
More David Moreton Films
For sexually confused teenager Eric Hunter, the Edge of Seventeen is the razor's edge: a leap from either side of the precipice may be a ...
Steve Davis, Aug. 13, 1999
More by Marc Savlov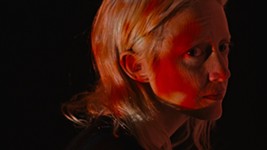 Identity melts in this psychotropic assassination brainblender
Oct. 2, 2020
Mangled Italian creature feature should be even shorter
Sept. 25, 2020
KEYWORDS FOR THIS FILM
Testosterone, David Moreton, David Sutcliffe, Antonio Sabato Jr., Sonia Braga, Celina Font, Leonardo Brzezicki, Dario Dukah
MORE IN THE ARCHIVES