Envy
2004, PG-13, 99 min. Directed by Barry Levinson. Starring Ben Stiller, Jack Black, Rachel Weisz, Amy Poehler, Christopher Walken.
Whatever happened to Heat Vision and Jack? That abandoned, near mythical, Ben Stiller-directed pilot for a television comedy featuring Jack Black as a former astronaut and Owen Wilson as his talking-motorcycle buddy, had (and still has) a comedy cachet that makes the forced and maniacal hilarity of Envy seem like the bad idea it clearly is. The appeal of pairing Black and Stiller in a comedy such as this is understandable, but Envy's horrid mix of poorly done black comedy and the incessant striving to be zany by Black, Stiller, and former Upright Citizens Brigade member Poehler makes Death to Smoochy look like a masterpiece of comic nuance. Stiller plays Tim Dingman, a suburban husband who works at 3M alongside his buddy Nick Vanderpark (Black). His sense of self is firmly rooted in both his work ethic and his quiet belief that, in the end, you get out of life what you put into it. That bedrock template is shattered, however, when the far less focused Nick invents a product – "Vapoorize" – that makes dog droppings vanish. Having turned down Nick's early offer to invest in the Vapoorize start-up for a sensible $2,000, Tim can only sit back and claw out his eyes as he watches Nick's dodgy idea turn to solid gold, and his friend become monstrously wealthy overnight. A swell comedic setup to be sure, but Barry Levinson (director of the far superior Tin Men and the equally disastrous Sphere) manages to torpedo his film from here on out by tacking on a truly bizarre subplot about Tim's subterfuge/murder of Nick's prize horse and the arrival – from Dimension X, one assumes – of Christopher Walken's J-Man, a mysterious barroom drifter who acts as the impetus for Tim's mad scheme to get himself rich, too. Envy feels like a comedy in search of a drama in search of some sort of lugubrious existential meaning; it never quite seems to know where it's going to head next, and neither will the audience. That's a bad thing, in this case. Both Weisz and Poehler, as Mrs. Dingman and Mrs. Vanderpark, respectively, do their utmost to ground the comedy in some spousal greed, but even this seems utterly unappealing and overly frenetic, with a strange, hysterical bent to their actions. Adding to the overall sense that you've somehow stumbled into a funless funhouse is the score by Devo founder Mark Mothersbaugh, whose oddball musical commentary only makes this strange, petty little film even stranger. It's downright painful to watch Black flounder around here after his triumph in Richard Linklater's School of Rock, and Stiller, who ought to go back to the bleak, black melodrama of Permanent Midnight just as fast as he can if he knows what's good for his career, is essentially playing the same hapless character he's been playing for what seems like ages now. It was old by the time he first met the parents and it's downright ancient now.
A note to readers: Bold and uncensored, The Austin Chronicle has been Austin's independent news source for almost 40 years, expressing the community's political and environmental concerns and supporting its active cultural scene. Now more than ever, we need your support to continue supplying Austin with independent, free press. If real news is important to you, please consider making a donation of $5, $10 or whatever you can afford, to help keep our journalism on stands.
READ MORE
More Barry Levinson Films
Bill Murray is a music promoter who finds his next client in Afghanistan
Marc Savlov, Oct. 23, 2015
Robert De Niro stars in this Barry Levinson comedy as a Hollywood movie producer beset with problems ranging from two ex-wives and unhinged actors and directors to perpetual worry.
Josh Rosenblatt, Oct. 31, 2008
More by Marc Savlov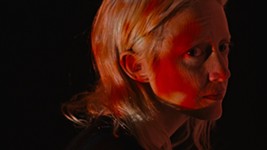 Identity melts in this psychotropic assassination brainblender
Oct. 2, 2020
Mangled Italian creature feature should be even shorter
Sept. 25, 2020
KEYWORDS FOR THIS FILM
Envy, Barry Levinson, Ben Stiller, Jack Black, Rachel Weisz, Amy Poehler, Christopher Walken
MORE IN THE ARCHIVES