The United States of Leland
2004, R, 108 min. Directed by Matthew Ryan Hoge. Starring Ryan Gosling, Don Cheadle, Kevin Spacey, Ann Magnuson, Lena Olin, Jena Malone, Martin Donovan, Michelle Williams, Chris Klein.
Produced by Kevin Spacey's Trigger Street Productions from a script by first-time writer/director Hoge, The United States of Leland is like The OC's smarter, older brother: an intellectual melodrama that sports all the requisite teen angst trappings – drugs, absent parents, coolly realistic and embittered interpersonal relationships, and murder – and ambles from the gorgeous, sunlit horror of its opening scene through a tangled web of whys and what-ifs to a final unanswerable answer that fairly screams "generation gap." People under 30 or those of a youthful mindset may see cracked reflections of their own lives in this morally intricate tale, but I can't help but think those of previous generations will wonder what all the fuss is about. After all, Leland P. Fitzgerald (Gosling) did stab an autistic boy to death (to a soundtrack of the Pixies, no less) and offers zero rationale. He can't even remember his actions on that day, and it's only when he's sent to a juvenile correctional facility and enrolled in a class taught by Pearl Madison (Cheadle), an aspiring writer who smells a true-crime novel in Leland's fractured psyche and thereby draws the young man out of his spacey (no pun intended) mindset, that the quiet Leland begins to open up both himself and, perhaps inadvertently, Madison as well. Hoge's smart script makes the most of modern teen malaise without ever offering any solid explanations for his main character's actions. Leland, we learn, has recently split from his girlfriend Becky (Malone), sister of the victim and a junkie of the upper-middle-class variety who spends her days listening to indie rock and shooting up on her bed while avoiding her parents (Donovan and Magnuson) – but Leland, writing in voiceover in his prison journal says the breakup's not the reason why. Then, there's his long-lost father, played with trademark subtlety by Spacey, a famous author who dictates his novels into a microcassette recorder while driving, and seems as distant as his damaged son. Again, dad-in-absentia isn't the reason Leland took up the knife. American Pie's Chris Klein shows up as the boyfriend of the murdered boy's other sister (the film doesn't skimp on major characters, of which there are many), a character who, in his own way, is just as damaged as Leland. That seems to be Hoge's point much of the time; in this universe, overseen by professional parents and a lovely blue sky, everyone has a maggoty moral center, and try though they might to be better people, they just can't seem to get a fix on that spinning internal compass. In this way Hoge's film echoes everything from the films of Larry Clark (Kids, Bully, Ken Park), all of which deal with young people adrift on a turbulent ethical and emotional sea, to Rafal Zielinski's little-seen 1994 film Fun, which also took inexplicable teenage rage to new places. Hoge's film raises more questions than it answers – that's his point, I think, to get us thinking – and Gosling, who previously played the conflicted Jewish Nazi skinhead in The Believer, inhabits the role of Leland so fully it's as if the character had killed him as well. Whether you come out of The United States of Leland primed for conversation or merely puzzled is, again, likely to reflect on your age, however. Kids these days. What're you gonna do?
A note to readers: Bold and uncensored, The Austin Chronicle has been Austin's independent news source for over 40 years, expressing the community's political and environmental concerns and supporting its active cultural scene. Now more than ever, we need your support to continue supplying Austin with independent, free press. If real news is important to you, please consider making a donation of $5, $10 or whatever you can afford, to help keep our journalism on stands.
READ MORE
More Ryan Gosling Films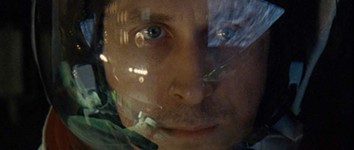 Gosling and Chazelle's moon man biopic soars
Richard Whittaker, Oct. 12, 2018
This visually lush sequel was worth the wait.
Marc Savlov, Oct. 6, 2017
More by Marc Savlov
The Prince is dead, long live the Prince
Aug. 7, 2022
Texas-made luchadores-meets-wire fu playful adventure
April 29, 2022
KEYWORDS FOR THIS FILM
The United States of Leland, Matthew Ryan Hoge, Ryan Gosling, Don Cheadle, Kevin Spacey, Ann Magnuson, Lena Olin, Jena Malone, Martin Donovan, Michelle Williams, Chris Klein
MORE IN THE ARCHIVES