Buffalo Soldiers
2003, R, 98 min. Directed by Gregor Jordan. Starring Joaquin Phoenix, Ed Harris, Anna Paquin, Elizabeth McGovern, Michael Pena, Leon Robinson, Dean Stockwell, Scott Glenn.
Based on the novel by Robert O'Connor, the long-completed Buffalo Soldiers was shelved indefinitely in the wake of 9/11 for its unflattering depiction of the modern American soldier. Never mind that both film and book have never purported to be anything but fictional – the ramp-up to war mothballed the project as surely as if J.Lo and Ben had been somehow attached. Now that Buffalo Soldiers is finally getting released from the studio stockade (although even now it seems somewhat tentative), this black and bitter comedy of errors masquerading as life on an American army base in Germany during the final days of the Cold War deserves the receptive audience it's been denied for so long. Part M*A*S*H*, part Sgt. Bilko, and with more than a hint of Kelly's Heroes thrown in for good measure, this is a grim commentary on a moribund and bored military outpost where the troops are mostly recruited from the ranks of scofflaws and hooligans who'd much rather be smoking dope and retooling the local black market to suit their needs than actually "be all they can be" (they'd much prefer to be as high as they can be, and frequently are). Phoenix, in his best role to date (too often in the past he's seemed precious and finicky; here he's just stoned and scheming, and he looks like he knows what he's talking about but good), plays company clerk Ray Elwood, who passes the days stealing everything he can (1,000 cases of Mop & Glo, for instance) from the Army and selling it back to the natives at cut-rate. He's also bedding the wife of his ineffectual base commander (McGovern and Harris, respectively), and things are cushy until Scott Glenn's gung-ho Sgt. Lee shows up determined to clean up the place. Elwood's ballsy counter-tactic is to start dating Lee's daughter (Paquin), which leads to more push-ups and forced marches than any man should rightfully endure, and, later, fire and explosions and death. Ah, lust. Buffalo Soldiers has been getting tarred by certain individuals, with the complaint being that the film is somehow un-American in its depiction of U.S. servicemen who know their way around the black market better than they do around a map of the European theatre. I'd argue, however, that it's just this sort of enterprising resourcefulness that has in no small way made the U.S. military – in particular the grunts and able seamen and lower echelon enlisted men – such cleverly implacable foes to go up against. It's hard to imagine the Revolutionary War (or any other American conflict since then, frankly) turning out as successfully as most of them have without the sneaky tacticians, clever plotters, and cunning stunters that have come up with all those battlefield backdoor sneak-arounds that so often win ground-based conflicts. You've heard of guerrilla warfare? Buffalo Soldiers is all about guerilla capitalism, and whether or not it's painted in thick, farcical, self-mythologizing strokes or whether this is the way things actually do occur (or occurred – the film is set some 15 years in the past, concomitant with the fall of the Berlin Wall) is not the point. The handful of enlisted men I've known have led me to believe the film may not be so very much exaggerated, but as a commentary on the sheer mindless ennui of military base operations during the Cold War, it's right on the money: "Life During Boretime."
A note to readers: Bold and uncensored, The Austin Chronicle has been Austin's independent news source for almost 40 years, expressing the community's political and environmental concerns and supporting its active cultural scene. Now more than ever, we need your support to continue supplying Austin with independent, free press. If real news is important to you, please consider making a donation of $5, $10 or whatever you can afford, to help keep our journalism on stands.
READ MORE
More Gregor Jordan Films
Bret Easton Ellis' collection of linked short stories are translated for the screen, but the result is less than zero.
Marjorie Baumgarten, April 24, 2009
More by Marc Savlov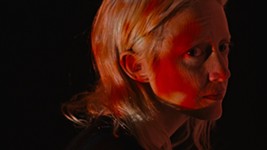 Identity melts in this psychotropic assassination brainblender
Oct. 2, 2020
Mangled Italian creature feature should be even shorter
Sept. 25, 2020
KEYWORDS FOR THIS FILM
Buffalo Soldiers, Gregor Jordan, Joaquin Phoenix, Ed Harris, Anna Paquin, Elizabeth McGovern, Michael Pena, Leon Robinson, Dean Stockwell, Scott Glenn
MORE IN THE ARCHIVES