Lara Croft Tomb Raider: The Cradle of Life
2003, PG-13, 116 min. Directed by Jan de Bont. Starring Angelina Jolie, Gerard Butler, Ciarán Hinds, Christopher Barrie, Noah Taylor, Djimon Hounsou, Simon Yam.
"Superior to the original" is generally considered a compliment in the world of Hollywood summer blockbusters, but when referencing this sequel to last year's video-game adaptation Tomb Raider, it's not saying all that much, the original having been a confusing and loud mishmash of CGI creatures, melodramatic dialogue, and Angelina Jolie's lips. Those lips return, along with enough formfitting spandex costumes to outfit a full regiment of robotic super-Jolies, in this catty, quick, and peculiarly European-seeming sequel. A co-production between the U.S., UK, Denmark, and Japan, it's a globe-hopping adventure in the most literal sense of the term. As in its precursor, it follows wealthy Brit adventuress Croft across multiple continents as she seeks to prevent an evil Nobel Laureate (Hinds) from obtaining the real Pandora's Box. The opening atop a Greek cliff where a wedding party is interrupted by an earthquake (which, in a nod to co-producers Toho-Towa, recalls nothing less than your standard Godzilla opening, minus the giant reptile) that uncovers an underwater tomb, which in turn leads Croft to "the orb" – a resin map to Pandora's blighted box. As you'd expect from a film based on a video game, de Bont and debuting screenwriter Dean Georgaris have constructed what amounts to an artfully arranged series of action set-pieces, strung together, thankfully, by a semilove story between the leggy Croft and ex-flame-turned-mercenary Terry Sheridan (Butler, aka Dracula 2000's dark prince). At the behest of Her Majesty and MI6, Croft travels to Khazakstan to secure Sheridan's release from prison, where he's spent his time wisely doing reverse push-ups in his cell, the better to look like an extra from The Wild Geese. Sidekicked with Jolie's excellent British accent, his thick Scottish brogue adds another layer of multiculturalism to an already borderless film (the film could almost be taken as a bizarre World Trade Federation riposte, with Hinds' resolutely evil Jonathan Reiss as the corporate baddie). Tomb Raider's aim is somewhat lower on the metaphorical level, however, and so we get Croft and her pal leaping off Hong Kong towers in an impressive bit of stuntwork, running over the tops of the famed Terra Cotta warriors, as well as cars (à la Jackie Chan), and, my favorite, punching a shark in the snout (it roars like a panther) and then riding it to the surface of the ocean. What's not to like? I'd say Georgaris' dialogue, which suffers from a propensity toward the banal (he even uses the word at one point) when it's not being passionately dramatic. But no one goes to a Tomb Raider film expecting Robert Towne-quality dialogue, they go for the action, or, barring that, the chance to see Jolie in yet another stunning outfit. On this end they're unlikely to be disappointed. In her sleek silver wetsuit and monster sidearms, she's the female sartorial equivalent of Mario Bava's Italian superthief Diabolik, another Euro-trash fashion plate handy with a set of matching automatics. The practical applications of a 36-inch ponytail in close-quarter combat are, one assumes, negligible, but there's no denying Croft's pin-up status among the PlayStation set. Bombastic it may be, but it's rarely boring, as was the first Tomb Raider. Keep your expectations in line with the source material and you may be pleasantly surprised.
A note to readers: Bold and uncensored, The Austin Chronicle has been Austin's independent news source for almost 40 years, expressing the community's political and environmental concerns and supporting its active cultural scene. Now more than ever, we need your support to continue supplying Austin with independent, free press. If real news is important to you, please consider making a donation of $5, $10 or whatever you can afford, to help keep our journalism on stands.
READ MORE
More Jan de Bont Films
A daredevil storm chaser gets the tornado he's always longed to see.
Marc Savlov, May 10, 1996
Action. Action. Action. More Action.
Marc Savlov, June 10, 1994
More by Marc Savlov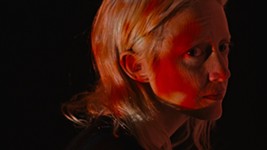 Identity melts in this psychotropic assassination brainblender
Oct. 2, 2020
Mangled Italian creature feature should be even shorter
Sept. 25, 2020
KEYWORDS FOR THIS FILM
Lara Croft Tomb Raider: The Cradle of Life, Jan de Bont, Angelina Jolie, Gerard Butler, Ciarán Hinds, Christopher Barrie, Noah Taylor, Djimon Hounsou, Simon Yam
MORE IN THE ARCHIVES