Sunshine State
2002, PG-13, 141 min. Directed by John Sayles. Starring Miguel Ferrer, Jane Alexander, Alan King, Richard Edson, Gordon Clapp, Bill Cobbs, Mary Steenburgen, James McDaniel, Timothy Hutton, Mary Alice, Ralph Waite, Angela Bassett, Edie Falco.
Having resisted the temptation to make a thoroughly mainstream film in a career spanning three decades, John Sayles is truly the dean of independent moviemakers. (Even the granddaddy renegade filmmaker of them all, Robert Altman, relented at one point and made Popeye.) Sayles has taken the road less traveled, and for those who love smart and passionate movies it has made all the difference. His filmography deceptively appears to be the work of a handful of directors, lacking an identifiable stylistic signature and encompassing a wide range of subject matter. He is the near-invisible artist, careful not to draw attention to himself, but nonetheless determined to make movies about social and political issues in which he feels personally invested. Sunshine State may be the best thing that he has done so far -- it's that good. Appropriately enough, the film starts off on a golf course, with Borscht Belt comic King doing a kind of stand-up routine on the greens as he putts and pontificates about Florida, the swampy, alligator-infested piece of real estate scammed by unscrupulous developers almost a century ago and transformed by American hucksterism into a paradisiacal landscape of palm trees and retiree dreams. The developers and the hucksters still wear the bad hats in Sunshine State, but they're legitimate now, corporate frontmen selling the American dream as a boutique hotel or a gated community. They have their eye on the lucrative beachfront property on Plantation Island, a community where the native wildlife is not the only the endangered species. The push to gentrify this middle-class oceanfront community into a millionaire playground and to displace the locals in the process is not without resistance -- some small business owners resent the intrusion of outsiders on principle, and the blacks in the area view the moneyed interlopers as a threat to the historical significance of Lincoln Beach, the seashore in the area that they used during segregated times. Sayles' screenplay frames this sociopolitical struggle over change with the stories of two women: one a black infomercial actress, Desiree Perry (Bassett), who warily returns to Plantation Beach after a 25-year absence, and the other a white second-generation restaurant and motel operator, Marly Temple (Falco), who restlessly yearns to get the hell out of town. (A third storyline, which features Steenburgen as a chamber of commerce booster who tirelessly promotes a fabricated tradition called "Buccaneer Days," is both underdeveloped and unnecessary.) Both Bassett and Falco turn in terrific performances. Bassett resists the urge to give Desiree a hard edge, which makes her all the more beautiful to watch. The pivotal scene in which she and her strong-willed mother (Alice) finally discuss her shameful departure so many years ago is played as truthfully as a scene can be played -- neither a reconciliation nor a confrontation, it's nothing short of marvelous. Falco wears Marly's white-trash weariness like a second skin, whether knocking back one too many tequila shots or waking up next to Mr. Wrong for the umpteenth time. The wonder of her performance is how she conveys Marly's common sense under all that sunburned attitude. Of course, all of the film's performances owe much to Sayles' screenplay, in which words and ideas converge with crystalline clarity. The monologues sound as if they were written for the stage; there's an artificiality in these speeches that gives the actors carte blanche to entertain, to inform, to provoke, to dazzle. (As an older man slowly going blind from diabetes complications, Waite rants against the dying of the light like something out of Shakespeare.) And the dialogue is scattered with so many beautiful gems that conversations glitter. Sayles is at the top of his form here. No question about it: Sunshine State is the brightest spot in this summer season of movies.
A note to readers: Bold and uncensored, The Austin Chronicle has been Austin's independent news source for over 40 years, expressing the community's political and environmental concerns and supporting its active cultural scene. Now more than ever, we need your support to continue supplying Austin with independent, free press. If real news is important to you, please consider making a donation of $5, $10 or whatever you can afford, to help keep our journalism on stands.
READ MORE
More John Sayles
Writer-director John Sayles on why he returned to the border for his latest film, 'Go for Sisters'
Robert Faires, Dec. 6, 2013
A fascinating lesson in history
Louis Black, July 29, 2011
More John Sayles
More on the making of 'Go for Sisters' from John Sayles
Robert Faires, Dec. 7, 2013
The Australian literary event revives two dying arts
Richard Whittaker, March 13, 2013
More John Sayles Films
John Sayles' new film, which stars Edward James Olmos and LisaGay Hamilton, is the indie film icon's best work in years.
Marjorie Baumgarten, Dec. 6, 2013
John Sayles' new drama is about life in a destitute African-American cotton-farming town in Jim Crow-era Alabama and the music that gave the region its mythology.
Josh Rosenblatt, Feb. 1, 2008
More by Steve Davis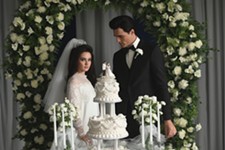 Measured journey behind closed doors of rock & roll's most famous marriage
Nov. 3, 2023
Ryan and Duchovny ponder the road not taken in magical rom-com
Nov. 3, 2023
KEYWORDS FOR THIS FILM
Sunshine State, John Sayles, Miguel Ferrer, Jane Alexander, Alan King, Richard Edson, Gordon Clapp, Bill Cobbs, Mary Steenburgen, James McDaniel, Timothy Hutton, Mary Alice, Ralph Waite, Angela Bassett, Edie Falco
MORE IN THE ARCHIVES