Son of the Bride
2001, R, 124 min. Directed by Juan José Campenella. Starring Ricardo Darin, Hector Alterio, Norma Aleandro, Natalia Verbeke, Gimena Nobile.
Argentina's Campenella directed 1991's The Boy Who Cried Bitch, which got a nod from me as one of that year's most disturbing movies (I called it Henry: Portrait of a Serial Killer as a Young Child if that gives you any indication). It's been a decade-plus since I've seen Campenella's work and if I had not known he'd helmed the previous exercise in teenage psychopathology I'd have never have guessed this was the same director. Imagine Wes Craven trading it in for, say, The 400 Blows-era Truffaut. Extreme, I know, but Son of the Bride plumbs emotional depths -- both adult and youthful -- that were only hinted at in Bitch. This time Campenella isn't out to shock, or even scare; he's much more interested in holding up the proverbial mirror to pre-midlife-crisis-age mankind, here embodied by Darin's Rafael Belvedere, a single dad and businessman struggling to keep his personal life afloat as everything around him conspires to do him in. There's his father Nino (Alterio), a dapper gentleman whom Rafael can only hope to emulate. Nino's lifelong dream -- his restaurant -- is now in the shaky hands of his son; with the banks and various creditors barking at the door it seems only a matter of time before the family culinary legacy topples. Add to this Rafael's girlfriend Nati (Verbeke) who only wants the best for the man with whom she has improbably fallen in love (though he can't see it and ignores her obvious entreaties), and his daughter Victoria who only wants to do right by dad, and you have the makings for a working-class hero stunted by the emotional blinders he's inadvertently equipped himself with. Frequent visits to his mother, suffering from Alzheimer's, at the local nursing home do little to ease the constant tension in his life, and when dad Nino decides it's time to give Mother the full-blown Catholic wedding she always wanted but never received, it's almost more than poor Rafael can handle. In quick succession there's a coronary incident, a grim hospital stay, and a rapid change of plans and pace for our beleaguered everyman. What makes Son of the Bride such a winning and emotionally punchy film -- and what doubtless netted it an Oscar nomination for Best Foreign Language film this year (it got clobbered by No Man's Land) -- is both Darin's engagingly realistic and altogether human Rafael and Verbeke's wise-yet-crotchety old man. Taken together they're one of the most lifelike father-and-son teams in memory, and Nino's occasional spoutings of patriarchal wisdom ("I never fought for an efficient world," he tells his win-at-any-cost offspring, not that anyone's listening) sound as true and sure as anything your own old man ever tossed your way. Cinematographer Daniel Shulman keeps his lens focused on the faces of this fracturing family, and the result is surprisingly affecting, as it mirrors not only the fictional lives onscreen but clearly those of the director and, yes, the audience as well. Aleandro's often bewildered but always compassionate matriarch is a foggy wonder and is the film's unshakable moral centerpiece. Surrounded by kith and kin such as this it takes no great leap of faith to believe in Rafael's eventual salvation. How the once-cynical director of The Boy Who Cried Bitch made it to this newfound plateau of hopefulness is another question entirely.
A note to readers: Bold and uncensored, The Austin Chronicle has been Austin's independent news source for almost 40 years, expressing the community's political and environmental concerns and supporting its active cultural scene. Now more than ever, we need your support to continue supplying Austin with independent, free press. If real news is important to you, please consider making a donation of $5, $10 or whatever you can afford, to help keep our journalism on stands.
READ MORE
More Ricardo Darin Films
Winner of the Best Foreign Language Film award at this year's Oscars, this Argentine film is a reflective mystery story.
Marjorie Baumgarten, May 14, 2010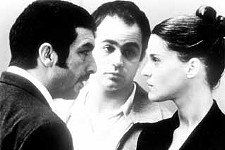 Inventive and lively caper film is as low-key in its technical execution as a sidewalk shell game but fueled by a frisky energy and a blithely circuitous storyline.
Marrit Ingman, May 31, 2002
More by Marc Savlov
A stunning look at life buried under the Rust Belt poverty line
June 11, 2021
Austin-made relationship horror takes a bite out of the trauma of love
June 4, 2021
KEYWORDS FOR THIS FILM
Son of the Bride, Juan José Campenella, Ricardo Darin, Hector Alterio, Norma Aleandro, Natalia Verbeke, Gimena Nobile
MORE IN THE ARCHIVES